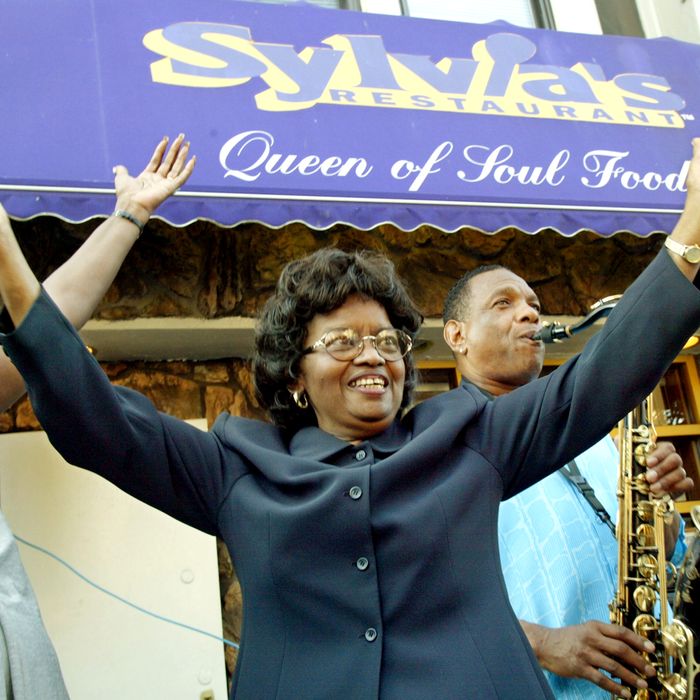 Woods, at the 40th anniversary of her restaurant in 2002.
Photo: AP Photo/Stuart Ramson
Sylvia Woods, the woman behind Sylvia's, the Harlem restaurant that's practically synonymous with soul food in New York, died yesterday at the age of 86. According to the Times, her family released a statement, but cited no specific cause of death, though Woods had been battling Alzheimer's disease.
The restaurant originally opened in 1962 and, as Gael Greene discovered in her 1979 New York Magazine story "Harlem on My Mind," went on to become a destination for all New Yorkers. The Times calls it "a culinary anchor and the de facto social center of Harlem" — an apt description of a restaurant that so clearly transcended its food.
Interestingly, her death came on a day when Mayor Bloomberg was scheduled to commemorate the restaurant's 50th anniversary. He issued a statement saying, in part, that Woods "exemplified the entrepreneurial spirit that is at the heart of our city's success." He added, "Even as her brand became a nationwide success, she never forgot to give back to the community that helped make it all possible."
Related: Harlem on My Mind [NYM]
Sylvia Woods, Soul-Food Restaurateur, Is Dead at 86 [NYT]
Pols Mourn "Queen Of Soul Food" Sylvia Woods [NYDN]