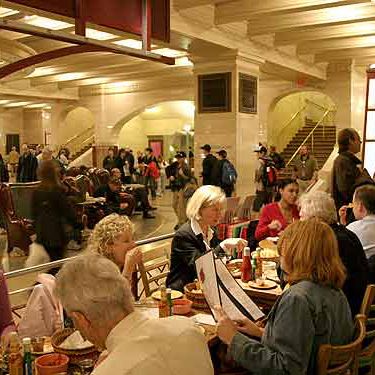 Zócalo is staying put, for now.
Crain's says the forthcoming Shake Shack at Grand Central Terminal has hit a snag: Zócalo, the restaurant currently in the space, refuses to leave. In fact, owner Richard Shapiro has filed a suit with the New York Supreme Court alleging that the bidding process for the space is "corrupt."
Shapiro says the bid request was originally limited to chains with fewer than ten locations, but as everyone knows, there are a zillion more than ten Shake Shacks. (By our count, there were thirteen Shake Shacks, including the Kuwait and Dubai locations, when the deal was first announced last July.)
Well, the MTA isn't having any of this: A rep says that "Zócalo is desperately pursuing any possible means to remain in possession of space it no longer has the legal right to occupy, contrary to the legal rights of the MTA and Shake Shack." Worth noting: Shake Shack will reportedly pay more than $100,000 more in rent each year, and they'll pay an additional percentage of its profits to the MTA, so no wonder they want Zócalo out ASAP.
Shake Shack gets sidetracked at Grand Central [Crain's NY]