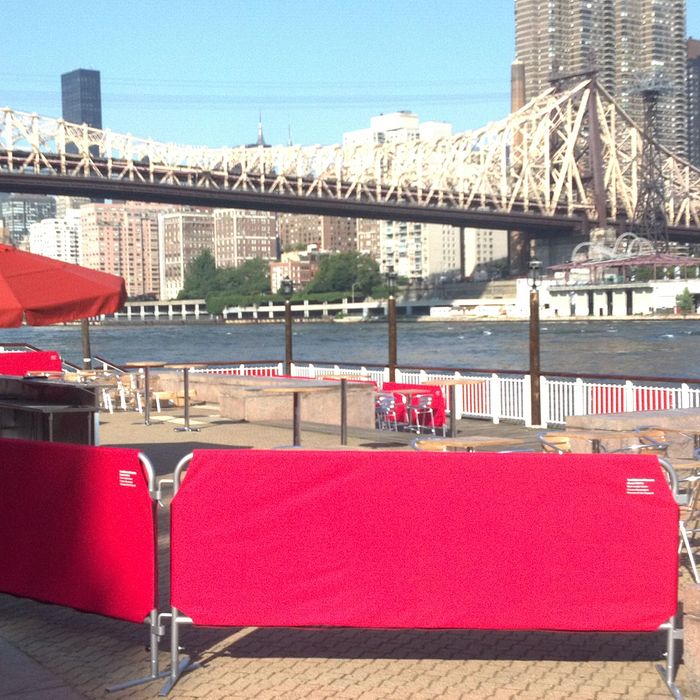 Vittles with a view.
Photo: Courtesy Pier NYC
If you've never taken the tram to Roosevelt Island, here's an excuse to do so this holiday weekend of sorts: Pier NYC opens on the West Promenade Friday. The waterside café has a barbecue-sandwich menu from Josh Bowen of John Brown Smokehouse and a "Santos Seafood Shack" lineup of oysters and more from Um Segredo's David Santos, with cocktails to wash it all down, of course. The spot opens Friday and will run daily from 11 a.m. to 9 p.m., weather permitting, through the end of October; see menus below.

BBQ MENU

BBQ Sandwiches

Pulled Pork $8

Pork Belly $8

Rib Tips $8

Lamb Sausage $8

Beef Brisket $9

Burnt Ends $10.50

Smoked Turkey $12

Home Cured Pastrami $12

###

SANTOS SEAFOOD SHACK

Raw Bar Selections
Served with cocktail sauce, lemon, and housemade Tabasco

Oysters
Naked Cowboy
Long Island
Hama Hama
Washington State
$2 each

Oyster of the Day
$MP

Cherry Stone Clams (East Coast)
$1 each

Jumbo Shrimp Cocktail (four shrimp)
$12

Other Seafood Selections

Rock Shrimp Roll $12
Chilled rock shrimp, celery, onion, charred scallion, aioli, toasted potato roll

Crispy Crab Cake $10
Lump crab, lettuce, tomato, onion, old bay aioli, toasted potato roll

Wild Striped Bass Ceviche $10
Ecuadorian style ceviche, house made tortilla chips

Spanish Gazpacho $8
Tomato and lobster salad, smoked paprika oil

Daily Addition $MP

###

DESSERTS BY ALLYCAKES
Baked with love and fresh ingredients; no preservatives

Specialty Cookies
Mudslides
Classic Chocolate Chip
White Chocolate Cranberry Oatmeal
$2.25 each

Bars
Chocolate Toffee Fudge Brownies
Macadamia Nut Bar
$3.25 each

Pier NYC Exclusives
Red Velvet Whoopie Pie
Rooseland Munch
$3 each

###

BEVERAGES

Assorted Sodas $2 - 3

Assorted Snapple $3

Assorted Bottled Water $2 - 5

Fresh Squeezed Grey Goose Screwdriver 10

Fresh Squeezed Prosecco Mimosa 8

Frozen Patron Margarita $10

Frozen Bacardi Daiquiri $10

FLASQ Wines: Chardonnay, Merlot & Cuvée Blanc $12

Heineken $8

Heineken Light $8

Corona $8

Corona Light $8

Pabst Blue Ribbon $5

Budweiser $6

Bud Light $6

IPA (YTD) $7

Summer Ale $7

Amstel Light $8