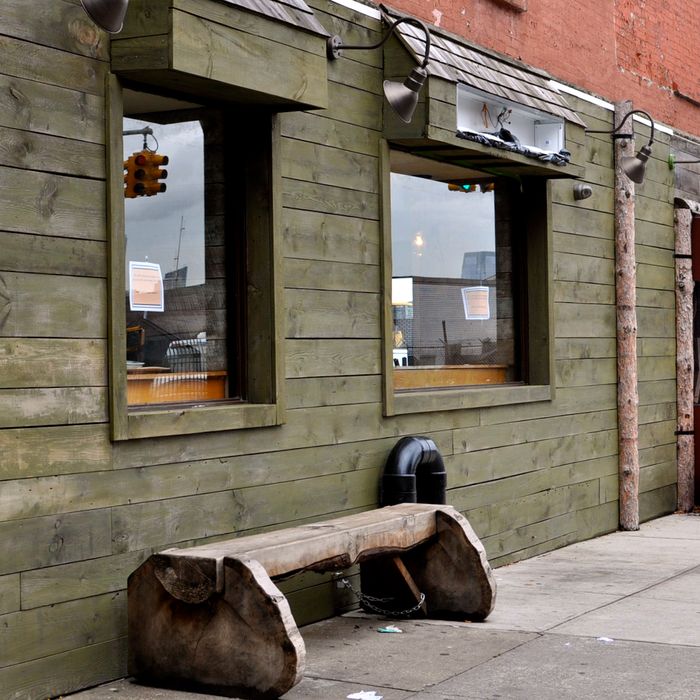 Changes are afoot, steps away from Pok Pok Ny.
Photo: Hugh Merwin
You would think that owning a restaurant a few doors down from one of the city's most popular new restaurants would be a boon to business. But from the looks of it, the one-year-old rustic Italian restaurant Casa di Campagna, on the corner of Kane and Columbia Streets in Brooklyn, just steps from white-hot Pok Pok Ny, has closed to undergo a major reboot.
Signs posted on its windows tease an August reopening, but the restaurant seems to have changed hands, according to this app filed with the SLA today.
In fact, signage has been removed, a fresh coat of green paint has gone up over the plank siding, and tellingly, the restaurant's owners are in the process of vanquishing the copious knickknackery that decorated Casa di Campagna: the generic home-décor-store chickens are going, and the cow tchotchkes are piled high, too, just inside the screen door, along with a big stack of menus.
With the restaurant's red-sauce mascots headed for cheesier shelves and the fiberglass army of rotund Boyardees going AWOL permanently, it's speculation time: Will Columbia Street become a booming restaurant row? Are the changes a good sign for the neighborhood or the first indication that Pok Pok–related gentrification is in full effect?