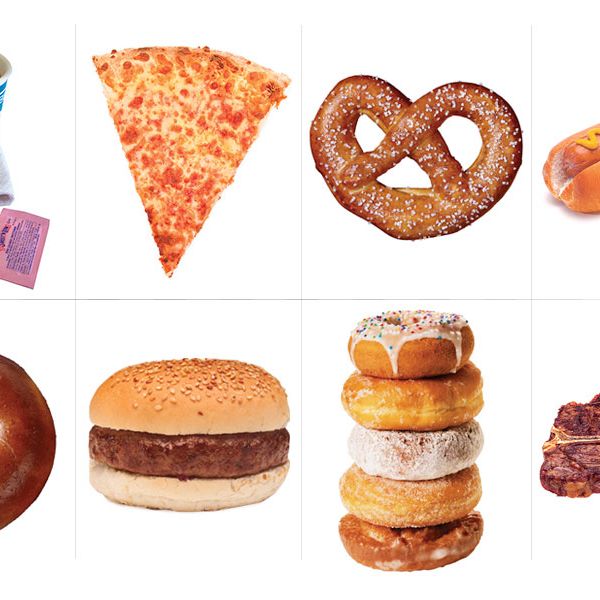 We scoured the city in search of the most affordable (as in rock-bottom) iconic foodstuffs, then we ran them by our chief restaurant critic, who rated everything on a ten-point scale. The result: We sort of got what we paid for.
Coffee, $.75
Moishe's Bake Shop, 115 Second Ave., nr. 7th St.; 212-505-8555
"It tastes like crankcase oil, but it has caffeine in it; it will work."
Score: 5
Pizza Slice, $.75
2 Bros. Pizza, 1015 Sixth Ave., nr. 38th St.; 212-575-1216
"It looks like a New York slice; it has nice cheese on it; it has the big crusty part that we like­—but it has no sauce."
Score: 3.5
Pretzel, $1
Eliana Jaramillo's Food Cart, 43rd St. nr. Sixth Ave.; no phone
"It's got good density, and it's nice and salty, and it will nourish you when you are on your way to the ballpark or whatever. I don't like gourmet pretzels, so I think it's good."
Score: 5
Hot Dog, $.99
Street cart at Broadway nr. Astor Pl.; no phone
"There is a reason that the New York hot dog is the most durable street food in town, and that is because they all taste the same."
Score: 5
Bagel, $.85
New York Muffins, 287 Bedford Ave., nr. N. 6th St., Williamsburg; 718-218-9080
"This is a first-rate non-bagel. It is heavy, and it looks like a bagel, but it doesn't really taste like a bagel."
Score: 4.5
Burger, $1.09
Pop's Burgers, 475 Seventh Ave., nr. 34th St.; no phone
"It's vaguely edible, except that it has this faint back taste of dog meat, which I find unappealing."
Score: 1
Steak Dinner, $4.30
(Bistek with Rice) Fiesta Grill, 69-12 Roosevelt Ave., Woodside 718-205-4010
"It's so leathery, you need a bowie knife to cut it. I don't know what part of the cow it came from, but it tastes like it has been cooked for about seven days. The rice is good, though."
Score: .5
A Dozen Doughnuts, $6
Mike's Donuts, 6822 Fifth Ave., nr. 69th St., Bay Ridge 718-745-6980
"If you are hung-over in the morning, and you need to get to work, with a cup of coffee they will do fine."
Score: 5
Chicken and Rice, Small Combo, $3.50
La Baguette Café street cart, 40th St. nr. Broadway; no phone
"The chicken has been cooked so hard that you can't really taste what it is, but it has some nice spice, and the rice is relatively fresh. This is my favorite, I guess, in the whole bunch."
Score: 7
Compiled by Katie Van Syckle
This story appeared in the July 16, 2012 issue of New York Magazine.
Plus:
• The Cheap List
• A Survey of Pizzaiolo Innovation
• The Pork Bun Explosion
• The Fish Sandwich Craze
• Asian Hipster Cuisine