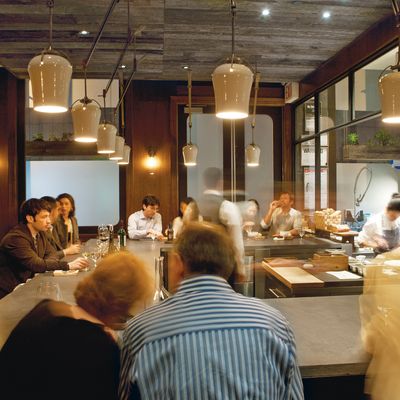 Three cheers, or rather, NYT stars, for Atera.
Photo: Danny Kim/New York Magazine
Our New York restaurant critics sat out this week, but their peers went in for another round of professional eating. Read about what the city's crop of professional eaters ate and what they thought, straight ahead.
"Wonder" is on the menu at Atera in Tribeca, says Pete Wells, who awarded three stars. The snacks (small bites) in Matthew Lightner's tasting menus are a bit strange, but his forage-y main menu fills the critic with awe.
"The popcorn shrimp are a skip here," and "the sushi's not very good." Those are the comments of Ryan Sutton on Blue Ribbon Sushi Izakaya. But his assessments weren't all bad: He likes small plates, such as beefy medium-rare short ribs with intense garlic puree or the array of offal, which he calls "umami bombs of gelatinous pleasure." Sutton awards two stars.
Michael Kaminer at the Daily News returns with a raving review of Maimonide of Brooklyn, giving four out of five stars. It's "the city's best vegan food in one of Brooklyn's coolest rooms." He calls the kale chips the gateway vegetable for carnivores; says the corn soup tastes of summer itself; and enjoys the "saucisson" fashioned out of sun-dried tomato, porcini mushroom, and sunflower seeds.
Calliope, which took over the old Belcourt space on East 4th Street, serves country-bistro fare. Tejal Rao pities the person who orders the roast chicken — because it's so good everyone at the table will try to snag a taste. The pork and rabbit terrine is a "bouncy castle of meat" that would be good with leftovers, although there aren't any, of course. And while the service is still finding its feet, and some dishes like the savory tart aren't quite up to speed, Calliope more than satisfies.
At Food Gallery 32, the food court in Koreatown, the pork chops from Taiwanese stall Bian Dang were "way porky" and cost only $8. Some stalls sell ramen, fried katsu pork cutlets, or nori rolls with stuffings like baked ham, and bacon and pickled garlic. And for Robert Sietsema and friends, the food court's dozen or so vendors (Korean, Korean-Japanese, Korean-Chinese) and three floors of seating provide the backdrop for a lively time.
The New Yorker would call Joanne Trattoria a mom-and-pop spot if the mom and pop weren't Lady Gaga's relatives. The dishes are named for family, on the wall are some "impressively hideous Mediterranean landscapes," and the place is altogether somewhere Joey Tribbiani would take a date. Excess is the word for focaccia that's good in the way "garlic bread at Domino's is good," and lasagna with a "paving-stone slab of meat." Ambitious dishes like osso buco and calamari salad don't work — and the most successful are decidedly those options that should come with warning of heart attack risk.
Jay Cheshes gives Brooklyn newbie Potlikker three of five stars for Liza Queen's "local, Southern-accented Greenmarket cuisine." But the menu is slightly overpriced, and while Queen may have been avant-garde in 2005, her menu today skews slightly unimaginative and behind the times in the world of haute Brooklyn fare. Cheshes suggests the goat cheese and summer squash cannelloni, the Dutch pancake with goat cheese, and the pork ribs.