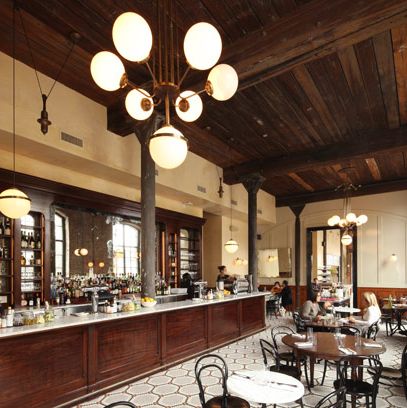 Everybody loves Reynards.
Photo: Melissa Hom
This week, Adam Platt offered his two cents on Reynards and Back Forty West, giving one star to each. What did his colleagues think of the city's restaurants in this round of reviews? Read about what they ate and what they thought, straight ahead.
Jay Cheshes compares Alex Raji's obsession for Iberian cuisine with Andy Ricker's Thai obsession, Zak Pelaccio's passion for Malaysian, and Michael White's fixation on Italy. At her new Brooklyn spot La Vara, the menu is injected with pre-Inquisition Jewish and Moorish cultures. Cheshes says La Vara tries too hard to infuse both cultures into each dish, and the food sometimes suffers (quail eggs, chewy chicken hearts on skewers). But a vermicelli and seafood paella, salt cod salad, and interesting desserts are standouts.
Pete Wells gives the nearly authentic Hill Country Barbecue two stars for its intensely moist brisket, beef ribs, and jalapeño-cheese sausages (all wrapped in greasy butcher paper). At the table, the paper unfolds into a communal plate, to which Wells adds a pile of seasoned salt for dipping. The desserts keep him coming back, too — a cup of that Texas classic banana pudding, or cupcakes injected with grape jelly and topped with a swirl of peanut butter.
At Foragers City Table in Chelsea, there's something for everyone — even if you don't recognize the names on the menu, Tejal Rao says. Crépinettes are sausage patties cooked in caul fat served with cucumber, crushed peanuts, and a nuoc cham sauce. The attached grocery store is stocked with produce from the owners' farm in Columbia County. The in-house Il Laboratorio del Gelato sorbets seem freezer-burnt, so Rao suggests stopping at the store for a fresher high-brow pint.
Mission Chinese just might be as good as it was cracked up to be at its opening in May, Robert Sietsema says. Although much of his food isn't actually authentic Sichuan, it's still damn good (and possibly better than the strictly classic kind.)
The New Yorker laments the shortage of zucchini blossoms and the bad service at Alain Allegretti's La Promenade des Anglais. But it praises Nicoise dishes like the roasted and fried baby artichokes and the cod speckled with sausage and red pepper.