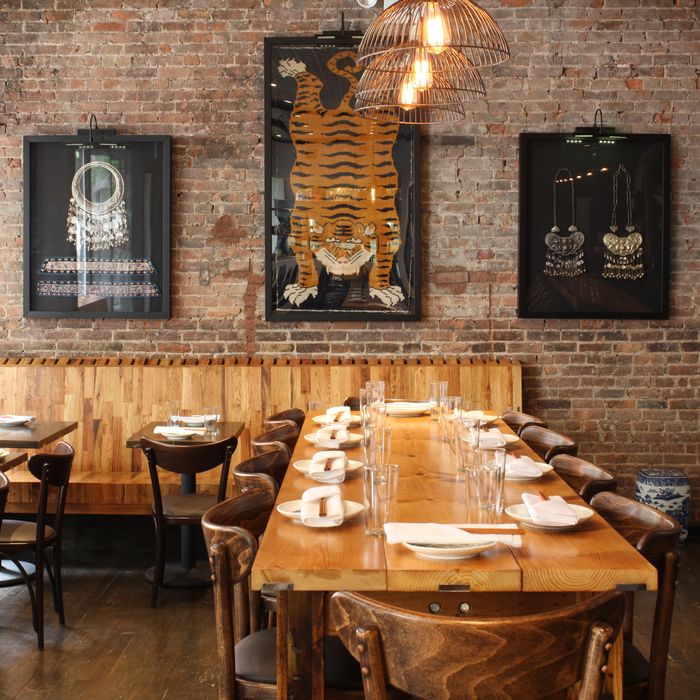 More buzz for Yunnan Kitchen.
Photo: Melissa Hom
This week, the New York food talk revolved around the heavily Asian "Eat Cheap" issue (if you haven't checked it out, do yourself a favor). What did the rest of the city's eaters sample this week? Their reviews, straight ahead.
Pete Wells wasn't incredibly impressed by Armenian-Lebanese import Almayass on East 21st Street (he gave it one star). But for a restaurant that advertises itself as "family style," Wells says there are actually a surprising number of real families (with kids) in the dining room. The family atmosphere at the family-run restaurant is comforting, if at times annoying. And while the entrees are hit or miss, Wells suggests the small plates.
Stan Sagner makes a reviewing appearance at the Daily News, giving three of five stars to Back Forty West. Sagner admits he misses Peter Hoffman's prior project at the space, farm-to-table Savoy. But with few kinks and homey food in the limelight, BFW is a welcome addition to the neighborhood.
New Lower East Side Chinese joint Yunnan Kitchen gives New York a taste of a cuisine it has little exposure to. Robert Sietsema says the small-plate restaurant fills a Yunnanese gap, even if it doesn't quite rein in the spicy flavors of the region.
Wylie Dufresne's new twelve-course ($155) and five-course ($75) tasting menus at wd~50 are casual, and, according to Tejal Rao, "fun as hell." The hot-pink noodles made from lobster roe are served with halved grapes, and the "pho gras," Vietnamese noodle soup with foie, moved her to tears.