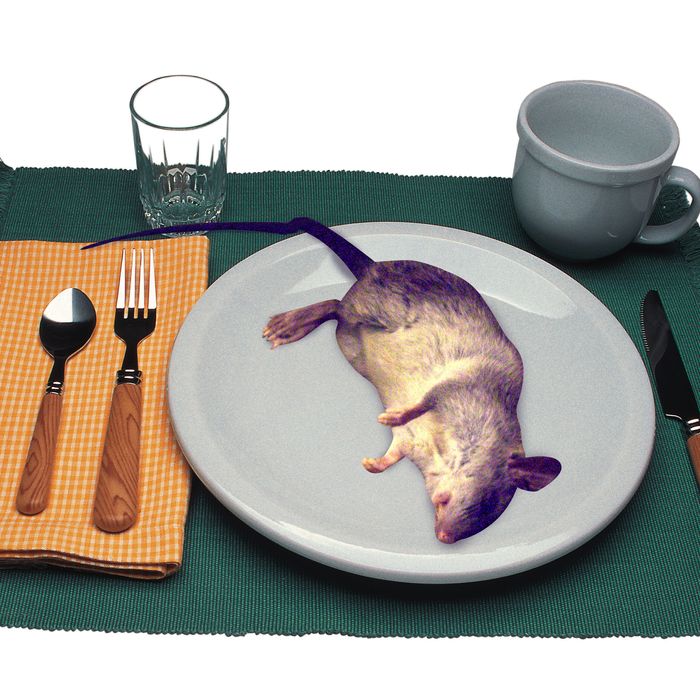 Just the beginning.
Photo: Yortw/Flickr
In a world where a performance artist charges $250 a head for plates of his own mushroom-and-parsley-garnished penis shaft, $100 for the five-course menu of Rat Five Ways seems like a steal. The Observer breaks down the dinner served at a Lower East Side gallery on Wednesday night, course by course: French toast and rat jerky, pork and rat terrine, roasted rack of rat on summer corn salad … you get the picture.
But now that rodents and members are old news, what's next for chefs and artists that want to pull off a successful stunt-dinner menu? Our thoughts for the art world, right this way.
1. "Sweat shooters"
2. Roulade of Central Park squirrel
3. Old lightbulbs
4. All that feces collected in San Franciso's train stations
5. Very small nests of human hair
6. Bespoke Cheesy Blasters, funded by Kickstarter
7. Pages from old library books
8. A mosaic of mixed nuts in the shape of Terrence Malick's face, with licorice hat
9. The entire 1973 opening menu of New York City's first McDonald's
10. Half-dissolved condoms from the Gowanus Canal
11. Silk spun by worms who live in the trees
12. Mouse akutak, sourced from Prospect Park burrows in February
13. Son of Baconator
Let's get to work, people.
Five Courses of Rat at an Art World 'Post-Apocalyptic Hunter-Gatherer Feast' on the Lower East Side [Observer]
Earlier: 'Junk' Food: Did Some Guy Really Serve His Own Genitals to People?
Related: 22 Other Things Pizza Hut Should Stuff Into Its Crusts