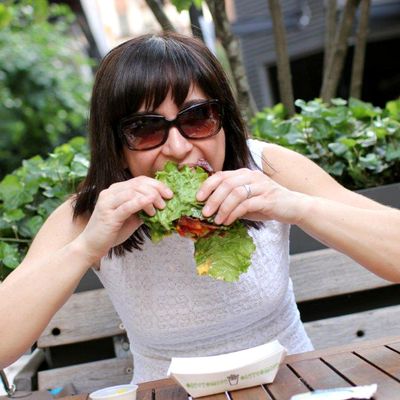 "Eating when you don't want to is even worse than having sex when you don't feel like it; at least with sex you eventually end up enjoying it."
Photo: Melissa Hom
Behind every good man is a strong woman, and behind Anthony Bourdain is a woman so strong that — if she put down her three stacks of hamburger patties, five cartons of canned meat, and wheel of Cambozola — she could crush him with her pinky finger. Ottavia Busia Bourdain — wife of Tony, UFC enthusiast, Muay Thai practitioner, and blue belt in Brazilian Jiu-Jitsu — might not be a chef or a food-TV star, but her muscular presence in the culinary scene is pure exhilaration. That's because Ottavia, while proper foodie royalty, is much more obsessed with UFC than EMP, and instead of fighting for the last bite, she fights for the black belt. "I follow a very low-carb diet — no pasta, no bread, no sweets, and no fruit," she tells Grub Street, explaining her disciplinary diet while in training. But O still manages to have fun, and this week, she even had a little too much fun. Read about her Amaretto di Saronno excess, Vegas steak "abomination," and the truth about getting "food fucked," in this week's New York Diet.

Friday, July 6
I'm in Vegas with my husband to attend a UFC fight. I wake up way too early and realize I have a bit of a hangover. The plan for a romantic morning is to go shooting an arsenal of automatic weapons at a firing range. I order two large pots of coffee with heavy cream for breakfast — I will need the caffeine to keep me sharp during my Rambo moment at the Gun Store. There's a Japanese restaurant at the casino that looks decent enough and I'm in the mood for some Hamachi sashimi. The chef immediately recognizes my husband. He says he has something really special for us. Dread.

I tell the chef I'm not really hungry, which is a complete lie, but I'm in no mood for specialties right now. Poor husband can't refuse. On top of the already hefty portion of sushi we ordered, the chef sends out two jumbo rolls; one is a caterpillar roll, complete with decorative antennae, and the other one is some unidentifiable creation coated in mayonnaise. They are enormous, with layers and layers of mayo, and avocado and tuna of suspiciously bright red color. Husband is polite and eats as much as he can; I get a free pass. I can see husband is sweating profusely. I ask for the check and we get an apple carved in the shape of a swan. Sorry, husband, you have to have at least a bite.

I know you'll probably think, Bitch is complaining about free food, but for me eating when you don't want to is even worse than having sex when you don't feel like it; at least with sex you eventually end up enjoying it, with food not so much. In the afternoon, we watch the weigh-ins and drink too much tequila, so our original dinner plans go out the window.

We take a nap and wake up at 9 p.m. with no dinner plans. Husband doesn't want to order room service like I suggest, so we decide to head downstairs to the celebrity-chef-branded hotel steakhouse for a quick dinner. We are tired, we are not in the mood for anything special, and a steak always sounds good. I've heard of some chefs calling restaurants ahead to make sure no extra food will be served, but we don't want to be assholes. We sit down and I tell our server we are not hungry; we don't need to look at the menu — we only want a steak, no appetizers, no sides, no nothing. After the unfortunate lunch experience, we are really trying to avoid getting any extra special courses, what somebody brilliantly described as getting "food fucked."

Right away, extra plates start coming. Our server immediately notices our discomfort, and after a couple of minutes and a few bites, he takes the plates away. But we are not safe yet. More courses come. The poor server looks apologetic. He knows. Husband dutifully eats as much as he can. The steak arrives and it has no char. It looks boiled. I cut into it and it's hard, and gray inside; it's well done. It also tastes like cheap supermarket meat that was quickly defrosted under hot water in the kitchen sink. And it smells — not dry-aged funk, but some disturbing livery odor. Now, this is a reputable steakhouse, with a famous and respected name on the door, but it was the worst steak I've ever had in my life, an abomination. We eat our steaks unhappily, tell the server to charge our room, and slink away, miserable.

Saturday, July 7
It's fight day! I also have a couple of Brazilian Jiu-Jitsu seminars to attend. For breakfast, I order the usual gallon of coffee and a side of delicious bacon. I snack on nuts between training sessions. It's 5 p.m. and I'm finally done; I'm really hungry, but the fights will start soon and I don't have time to sit down. I order an omelette and have no choice but to eat it in the bathroom while I try to get ready. I only drink water during the fights; I don't want to be shitfaced and miss any of the action.

Anderson Siva wins his bout and it's time to celebrate. I know I should eat something before I start drinking, but the adrenaline is still high and I can't sit down for dinner quite yet. I'm drinking Amaretto di Saronno. A lot of people I know, like my husband, think that's just nasty, but to me it's the nectar of the gods. On more than one occasion, I drank it through an entire tasting menu, leaving the sommelier horrified.

I rarely drink because I train six days a week, so when I do I usually start not making any sense after the second drink, I'm completely incoherent after the third, and I start picking fights with strangers after the fourth. That's the time when, for everyone's safety, husband drags me away and we decide it's finally time to eat something. Unfortunately, everything besides the 24-hour buffet is already closed and we end up ordering room service. We conclude our festive night eating cheeseburgers (no bun for me) and watching Louis C.K. videos on YouTube.

Sunday, July 8
I wake up and I immediately swear off alcohol for the rest of my life. I have to pack, I have to shower, I have to leave, and I'm pretty much paralyzed in bed. I order some coffee, but today it's not really helping. At the airport, I drink some Coke Zero. The entire place smells of Cinnabun, which is the last thing I want to smell right now. Vomit is knocking on the esophagus's door.

On the airplane, I eat a little cheese. I start watching Roman Polanski's Carnage, but quickly switch to the totally awesome 21 Jump Street. Now, that's quality entertainment! I arrive home past midnight. I'm tired, but my appetite is finally back. I eat five cans of my favorite canned meat, Simmenthal, before I pass out.

Monday, July 9
I'm feeling much better today. I drink a few cups of coffee, a couple of protein shakes, and I'm ready to start training. I'm probably not going to compete until October, but I don't want to lose the routine. I'm training again in the afternoon, so I'm keeping my lunch light and have an omelette. I usually don't eat a lot during the day, but after I'm done with training, I pretty much eat nonstop until it's time to go to bed.

After I get back home, it's Cambozola time. I've been thinking about that wheel of cheese the entire day, and now I can finally dig in. After that, I prepare my favorite snack, a concoction of Italian tuna, pickled onions, and mayo. Even the cat is turned off. I cook three bags of cauliflower and stink up the house even more. For dinner, I cook two filets with some roasted peppers. My daughter helps me; she likes her meat bloody just like me. I curl up in bed with the new Freddie Mercury biography and a jar of peanut butter.

Tuesday, July 10
I have my usual breakfast, coffee and protein shakes. Training was really hard today; I get back home at 3 p.m. and I'm starving. I order a double dose of rashers from the diner around the corner. Irish bacon is just my favorite. I immediately eat one portion and I start boiling some eggs to make myself a nice frisee au lardons salad with the rest of the bacon. I also have a big hunk of Parmigiano Reggiano, and a half a pound of Parmacotto ham and a few slices of mortadella. I clearly didn't eat enough in Vegas, because I accidentally lost three pounds and I need to get them back. For dinner, I have a Porter House and more cauliflower.

Wednesday, July 11
Three coffees and megaprotein shake for breakfast, and off to Renzo Gracie Academy for two sessions of Brazilian Jiu-Jitsu. I won't be back home until 3 p.m., so I pack a couple of cans of Pure Protein Banana Cream shakes. Last time I was in Miami, I tried to blend them with ice and rum, and they tasted exactly like the banana daiquiris they serve by the pool without the gazillion grams of sugar.

Late lunch is a couple of pounds of roasted Brussels sprouts with bacon.

It's 6 p.m. and I'm on my way back from my weekly chiropractor visit. I cross Lexington Avenue at 86th Street and I start smelling heaven. I'm hypersalivating. Last year a miracle happened on the Upper East Side: a Shake Shack opened. Since then I've been having their delicious burgers for dinner at least three times a week. I walk in and order the usual, "2 double cheese burgers with lettuce, tomato and bacon, no bun, not an allergy, to go." I take them home and I stack them together to make a quadruple cheeseburger and I attack! I don't think I will be needing a snack tonight.