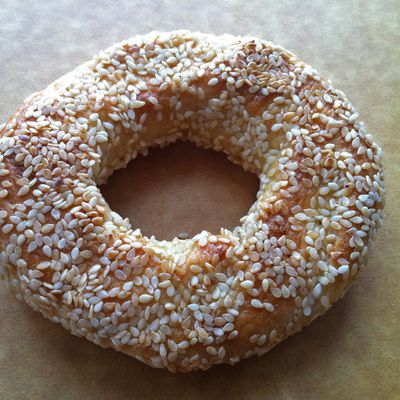 The shop's house-made bagel.
Photo: Courtesy Mile End
Since H&H; closed last summer — and Mimi Sheraton declared the state of the New York bagel "deplorable" — there has been a void in the city's quality bagel scene. But that may soon change, particularly for lovers of the smaller, denser, sweeter Montreal-style dough orbs. Last weekend, Mile End quietly debuted their first Brooklyn-made bagels at Paper Magazine's Super Duper Market — and almost sold out their 900-bagel test run.
Owner Noah Bernamoff tells us that the bagels will be added to Mile End's menu come early fall, though many of the doughy details are still being worked out. So far, we know the bagels will be Montreal-style — meaning chewy, on the smaller side, and sweetened by a honey-infused bath — though they won't be exact replicas of the bagels from St. Viateur in Montreal, from where Bernamoff has trucked-in his bagels for the past two and a half years. "Our goal is to make what I call an old-fashioned bagel. We want to take bagels back a notch, the same way we did with deli," he told us.