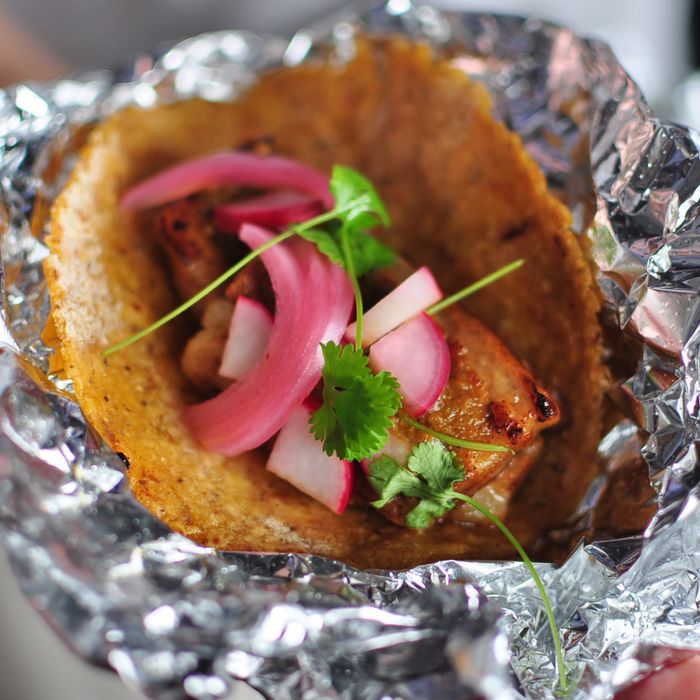 Pork belly with tamarind.
Photo: Tejal Rao
If the recent spate of breakfast tacos popping up on menus in the past year indicates a sort of High Renaissance arrival of the tortilla-based cultural hybrid, the forthcoming Lonestar Taco may turn out to be the period's Leonardo. Former Bouchon Bakery sous chef Wayne Surber and his wife Tracie Lee are looking at various spaces in Bed-Stuy and other neighborhoods for their planned 40-seat, all-day café. But until a lease is signed, Lonestar will be slinging scrambled eggs and made-from-scratch chorizo at New Amsterdam Market on a regular basis, posting its schedule and the week's menu on Twitter in advance.
Surber, who is from Tex-mecca San Antonio, has painstakingly created a small menu of standards made almost entirely from very local ingredients: wheat flour, eggs, pork shoulder, and beans come from upstate New York; for its corn tortillas, Lonestar buys fresh masa from Harlem's Hot Bread Kitchen. Special tacos, like a tamarind-glazed plank of pork belly dressed with radishes and pickled onions, are rotated in with standards like bean and cheese, and all tortillas are pressed to order.
"We don't believe recipes are one of those black box secret kind of things," says Surber, noting Lonestar's wheat version is based (fittingly) on a Homesick Texan recipe. "We put the recipe on our blog if anyone wants to try it."