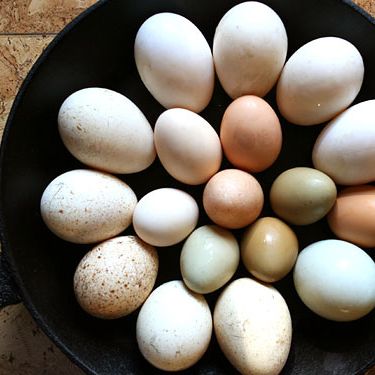 All eggs are not created equal.
Photo: Melissa Hom
It's the start of another week, which means it's also time for the latest edition of Eat Well, Grub Street's guide to satisfying, virtuous food around town. This week brings us a healthful twist on a Thai takeout staple, a refreshing (vitamin-packed) soup from one of Brooklyn's best neighborhood restaurants, and even some cheese doodles. Here's where to find it all:
Monday, July 30: Papaya Pad Thai at Ngam
Thinly sliced papaya in place of real noodles sounds like some kind of awful low-carb copout, but at comfort-food Thai joint Ngam, it's a revelation. All the classic richness of the dish is still there, plus the fresh crunch of green papaya — not to mention more potassium, vitamin C, and fiber than the classic rice noodles.
Tuesday, July 31: Wholesome Cheese Doodles
There's nothing wrong with indulging a Tuesday afternoon craving for cheese puffs, as long as you avoid such dicey ingredients as partially hydrogenated oils, polysorbates, TBHQ, and sulfites. The solution: Seek out brands like LesserEvil. You get all the salty, snacky satisfaction without the weird chemicals. Pick up a bag of Cheddar Krinkle Sticks at Westerly Natural Market or Whole Foods.
Wednesday, August 1: Chopped Salad Among the Glamazons
At a place as packed with models (and wannabe models) as Abe & Arthur's, you damn well should be able to get a great salad. The newest addition to the menu: a chopped concoction featuring apples, walnuts, blue cheese, bacon, pickled onions, and honey croutons.
Thursday, August 2: Cucumber Gazpacho in Park Slope
Crap, it's August already. Before summer is out, take advantage of Rosewater's balmy, plant-lined front patio. And while you're there, order a cooling bowl of pimento-spiked cucumber gazpacho. You may think cucumbers are mostly water, but the truth is they pack an impressive nutritional punch, with a substantial dose of vitamins A and C, and — here's some knowledge for trivia night — an essential mineral called molybdenum.

Friday, August 3: The Best Eggs
Hate to break it to you, but organic and so-called free-range eggs from the supermarket aren't the best you can buy. Yolks and whites are at their nutritional-powerhouse best when they come from a chicken that's actually been out in a pasture, snapping up high-protein grubs and such. It's those eggs that have the best ratio of fats (hello, omega-3s) and highest levels of nutrients. Stock up for the weekend at a farmer's market stand (any will do), and then consider impressing your brunch guests with this killer recipe. Oh, and eat the yolk, for goodness sake: It's actually unlikely to raise your cholesterol, and a combo of protein, good fats, and essential vitamins and minerals mean it's the healthiest part of the whole egg.