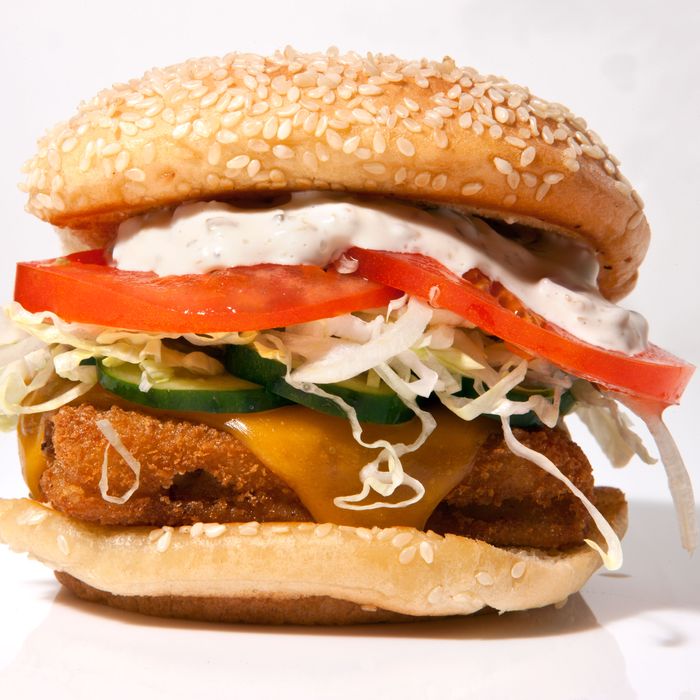 Lake Trout's cheese fish sandwich.
Photo: Danny Kim/New York Magazine
"I'm a huge fan of crappy food," says Matt Lang. By which, we might add by way of clarification, he means delicious crappy food as opposed to crappy crappy food. The former Fette Sau pit-master is a Baltimore native and so, by definition, a fan of that city's favorite fish, the fried whiting, which is known there for some inexplicable reason as "lake trout." That's the name Lang has taken for the fried-whiting shop he opens next week with business partner Joe Carroll that celebrates the fast food of his Baltimore youth.
On the menu, you'll find not only the namesake specialty of the house served with white bread and housemade hot sauce but also fried shrimp, chicken wings, and a cheese fish sandwich (fried pollack on a Martin's potato roll with a Velveeta-based cheese sauce that you could certainly describe as falling under the heading of "delicious crappy"). Lang also aims to redeem what he considers the sorry state of the crab cake by employing the little-known crushed-Saltine-cracker method he learned at the knee of his grandmother.
To wash it all down, there will eventually be beer (Schaefer, Ballantine, and Genny Cream in cans, of course). And the décor follows the direction of the food with bright-orange plastic chairs built into the cafeteria-style tables and some blown-up Baltimore Orioles baseball cards from the seventies hung on the walls. Even Lang's old high-school baseball coach and former Orioles' infielder, Tim Nordbrook, makes an appearance.
Lake Trout, 160 Havemeyer St., nr. S. 2nd St., Williamsburg; no phone yet