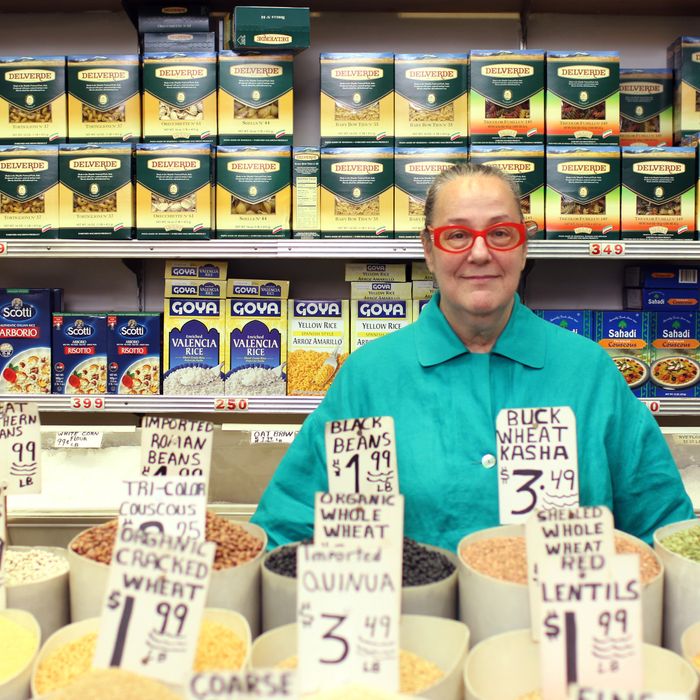 Hastreiter amid the provisions at Ninth Avenue International Foods.
Photo: Melissa Hom
Paper magazine co-founder, editor, and publisher Kim Hastreiter has been even busier than usual lately — the Super Duper Market, a three-day-long pop-up "grocery store" she's curating from a mix of restaurateur and artisan producer friends, is barely a week away. But that doesn't keep her from finding time to spend in the kitchen. "If I didn't have a magazine and I didn't have a store or a gallery, I might have a restaurant," she says. "I'm a maniac cook." She's lucky enough to have a big fruit and vegetable garden on her Greenwich Village terrace, but since that's under construction this summer, Hastreiter contents herself with trips to Union Square Greenmarket, bringing back enough haul to whip up things like cold squash soups and a cherry tomato pasta that "people go crazy for." That's just the beginning: Drool over all the rest in this week's New York Diet.
Friday, June 29
For breakfast, I'm a creature of habit. In the summer I always have berries with yogurt and I make my own granola. And I always have a gigantic skim latte that I make.
Our office is in Koreatown. There's a restaurant called Don's Bogam that happens to be the best restaurant in all of Korea town. It's in the building of the Paper offices so I go there all the time. For lunch, I had kalbi bimimbap and homemade tofu. Korean food is bit funky — I'm not into rotten cabbage really. But this place makes the most amazing tofu with seaweed and soy dressing. And they bring out all the little dishes, but I don't eat any of that stuff.
For dinner I ordered in some sashimi from Japonica and edamame, and then I had a Fudgsicle.
Saturday, June 30
I had a giant skim latte and a nectarine. The nectarines and peaches are really good this year. Then a scone from O Café. We were all super upset when Joe Jr. closed. In its place opened this place called O Cafe — hippies opened it. It's very homey, low-budget. Everyone seems to love it.
Saturday for lunch I had leftover edamame. I had gone to the farmers market and bought yellow squash — I make this cold yellow squash soup in the summer. Yellow squash, dill, onions. I also bought basil because I wanted to make pesto. Then one place had corn. I was a little skeptical, but my mother is a huge corn freak.
Then I made the soup. You just sautee onions in olive oil. Then you cut up a ton of yellow squash and put it in a big pot. Then you put chicken stock. Then you chop up a lot of dill. Then you use one of those hand blenders and blend. Then you squeeze two lemons and lemon zest, then you let it cool. Then you put in a whole container of yogurt, then let it chill. It's really pretty to serve that with beets, so you have the bright pink beets and yellow corn.
We had the corn and the soup and unfortunately they were both yellow. I made a little baby lettuce salad with olive oil and balsamic. And I made little grilled crostini to go with it with it, with cherry tomatoes and goat cheese.
That's how I like to eat in the summer. Cold soups and the best lettuce you can find. I thought it was too early for corn, but it was fantastic; I went back and bought more.
I also bought from my favorite farmer these baby potatoes — teeny, teeny, teeny ones. They're about the size of lima beans. It's called Mountain Sweet Berry Farm. They don't have very much, but whatever they have is amazing.
That day I also made pesto. And of course I had Edy's mint chip ice cream before I went to bed. It's only 120 calories.
Sunday, July 1
Giant latte for breakfast. Teeny baby strawberries and baby raspberries with yogurt.
Lunch, more squash soup, and I repeated the tomato and goat cheese crostini.
I picked a pear while I was out walking the dog — on 12th Street between Fifth and Sixth avenues. This pear tree that nobody ever notices is there.
I had bought probably four pounds of cherry tomatoes that were ridiculously delicious. I'm famous for this cherry tomato sauce on pasta — people go crazy for it. It's best if you have cherry tomatoes that you've just picked, which I usually do from my terrace. But these were very fresh.
I get this gigantic pan. Put good olive oil and pepperoncini it. You just throw in a shitload of cherry tomatoes, a shitload of garlic. You throw the tomatoes in for about two minutes until they puff up. I put in a whole head of garlic; I grated it. Then you take your spatula and press on the tomatoes so they just explode a little bit. You throw in a shitload of basil. And then you throw in white wine. Let it cook for two minutes so the alcohol goes away. Meanwhile you're boiling the pasta. Then you turn it off and put in a good amount of Parmesan cheese, then you throw the pasta into the pot and cook it the rest of the way. Then I had bought some arugula so I made a simple salad with lemon.
I make that a lot on the weekends and I usually try to invite a bunch of people over. There's never leftovers.
I had Riesling because it was all we had. Not a sweet Riesling. I think it was from Alsace. But I love rosé right now. I drink rosé whenever I can.
Monday, July 2
I had my baby strawberries and raspberries and yogurt again. And a little of my homemade granola: I put in everything — hazelnuts, coconut … I make a big amount and it lasts for a long time. And I had a giant latte.
That day I had my picture taken at International Foods, so guess what I did? I went shopping. I learned from George Lois, who's this badass art director, he's a legendary ad guy. He is Greek and I learned all about Greek cooking from him and his Christmases. International Foods has the best spices, the best honey, somebody makes the best mozzarella there, even though it's not Greek. The best taramasalata. Tzatziki. They make their own yogurt. Spinach pies, everything. I came back to my office and for lunch just had carrots and taramasalata. And Pirate's Booty puffs.
Then for dinner I did have a little leftover cherry tomato pasta.
Tuesday, July 3
Raspberries, yogurt, granola, giant skim latte.
For lunch delivery I had Schnipper's. Shake Shack is so copied now so there's a lot of these places. But it's close to our office and I just tried it one day and they have the best salads. They have this fresh market salad that is so delicious — Beets, corn, avocado, radish sprouts, toasted almonds, croutons, tomatoes, chickpeas, Parmesan. I had it with grilled chicken and chipotle dressing. I'm a little addicted to these salads; I have them often for lunch.
Mickey [Boardman, Paper's editorial director], who had the best Grub Street Diet ever, is a bad influence. He came in my office with a Fat Witch brownie — a mini one though.
For dinner I came home with all of the stuff from International Foods and I made an amazing Greek salad. The secret is you don't use lettuce, you use cucumbers. You take the seeds out. And then cherry tomatoes from the market. And then I threw in Greek olives; their feta; they make dolmata, the little grape leaves. Greek oregano, olive oil, and lemon. On the side, their pita bread that I warmed up. With tzatiki and taramasalata. And Edy's mint chip ice cream before bed.
Wednesday, July 4
Same deal: yogurt, raspberries. I do have a little glass of fresh O.J. every morning. And a skim latte.
I went to the farmers market again. And I bought all different color heirloom tomatoes. And I made just delicious tomatoes with fresh mozzarella from that place on MacDougal — Joe's Dairy. And tons of basil and some olive oil, salt, and pepper.
For dinner I went to RedFarm with a few people and ordered the most delicious spicy crispy beef. It was sick, it was so good. Shrimp and pea dumplings, duck and crab dumplings. Shiso sea bass. I love that place.