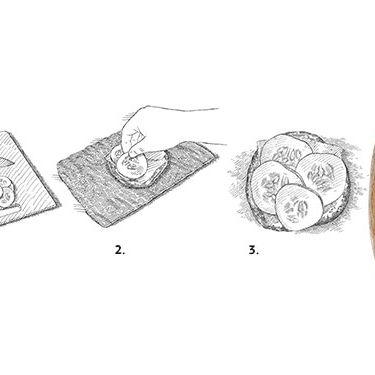 Photo: Jonathan Nesteruk/Illustrations by John Burgoyne
Originally from India, this chameleon of a cucumber dramatically changes color as it ripens on the vine, going from creamy white to yellow to a pumpkin-y russet. At each stage, it's sweet and juicy and about as crunchy as a Honeycrisp apple. Look for it now at Keith's Farm stand at the Union Square Greenmarket, and use it any way you would a good slicing cuke. For a one-stop-shopping Poona kheera sandwich, grab a tublet of butter at Ronnybrook, a hunk of cheese at Cato Corner, then some Finnish rye at the Nordic Breads stand, whose delicious, crowd-pleasing samples we took as inspiration for the following recipe.
Nordic Breads' Cucumber Sandwich
1/2 medium-size Poona kheera cucumber
Sea salt and pepper to taste
2 sandwich-size rounds of Finnish ruis (rye) bread
2 oz. butter
1/2 pound Aged Bloomsday cheese (at Cato Corner)
(1) Thinly slice the cucumber. Season with salt and pepper. (Alternatively, peel the cucumber, slice thinly, quickly pickle for ten minutes in a shallow bowl with 1/4 teaspoon of salt and the juice from half a lemon, then drain in a colander.) Split the bread in half, and butter each of the insides. Shave the cheese into medium-thin slices, and distribute equally on each of the four halves of bread. (2) Top with cucumber slices. (3) Serve open-faced.

This story appeared in the July, 30, 2012 issue of New York Magazine.