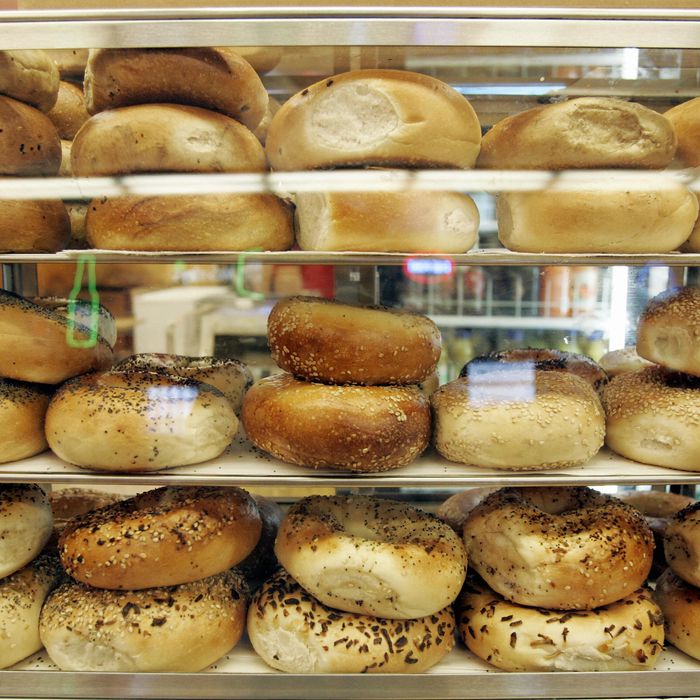 Don't call it a comeback. It's been here for years.
Photo: STAN HONDA/AFP/Getty Images
New York bagel-lovers were all tears for schmears back in January when the once mighty H&H; Bagel empire was reduced to a single retail shop on 46th Street, which, in turn, closed abruptly after tax and debt issues plunged the company into irreversible financial straits. It was reported that H&H;'s owner Helmer Toro, who began in 1972 with a single UWS shop and grew the business into a chain that made 80,000 bagels a day, had lost all of the company's property and real estate except for its trademark, and even as all of the company's phone numbers were disconnected and its online store went dark, Mr. Toro told The Wall Street Journal he vowed to reopen the company as soon as he could.
Six months on, two clues suggests that H&H; — or perhaps some rebooted form of the iconic NY bagel chain — will open at 125 Fulton Street, in the former site of a Bread Factory Cafe in the financial district. A lease transaction notice logged in the Real Deal notes H&H; Bagel signed a lease for 1,800 square feet at 125 Fulton Street, near Nassau Street, and last week, new tenants filed with the DOB to convert the existing retail space into a "new bagel store." That address was most recently home to a Bread Factory Cafe, and since that chain bakes its breads and bagels on-premise, it wouldn't be too far-fetched for this address to be the next incarnation of H&H; Bagels.
The company did not immediately return our call for comment, but we'll relate new details as we hear 'em. In any case, it looks like those Montreal-style bagels may soon have some old-fashioned NY competition.
Earlier: After a Slow Death, H&H; Is Gone
Related: As H&H; Struggles, Who Really Makes New York's Best Bagels?
Related: Mile End Will Start Making Its Own Montreal-Style Bagels