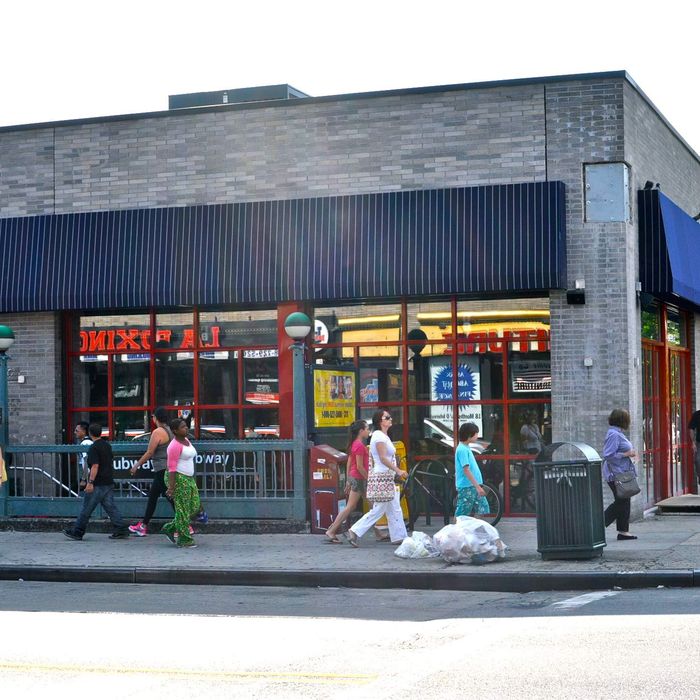 But really, how are the wings?
Photo: Hugh Merwin
The mystery will likely not end with bang or a whimper, but rather with wing sauce and push-up bras: A few months back, the intrepid soul tweeting at @35thAndKaufman examined the flotsam of intel suggesting the owners of the Long Island Hooters franchise locations are opening a new concept called Bud's Ale House in Astoria, on Steinway Street, in one renovated half of the old Salvation Army. Months later, the restaurant is still not open, but it all seems true.
The principal on the forthcoming restaurant's liquor license application is the same as for a Hooters' Long Island and Queens locations, and those LLC names are awfully similar. Also, the registrant for the restaurant's parked websites is Buddy DeMarco, identified as the CEO of the franchise's Long Island locations in 2010.
With its benign, cheery, beer-centric name, is Bud's Ale House a "stealth" Hooters in microbrew clothing? Opinion seems to be split on the corner space, which is furnished and looking ready to open. Has Hooters grown up? Is the breastaurant scene, now cluttered with chains like Canz-a-Citi Roadhouse and Twin Peaks, over?
Whatever's opening here, it shouldn't be too much of a surprise. Sports bar and short-skirt rival Canz-a-Citi is already open in Astoria, so the market's there. On the other hand, Hooters was last seen trying to court Park Slope by (unsuccessfully) peddling a "good business steward" pitch to the local BID. Maybe Bud's Ale House is the company's warm-up to a kinder, less cleavage-y bar and grill, a new era. Less chauvinism, tastes great, all that. But it's probably just more beers and boobs.