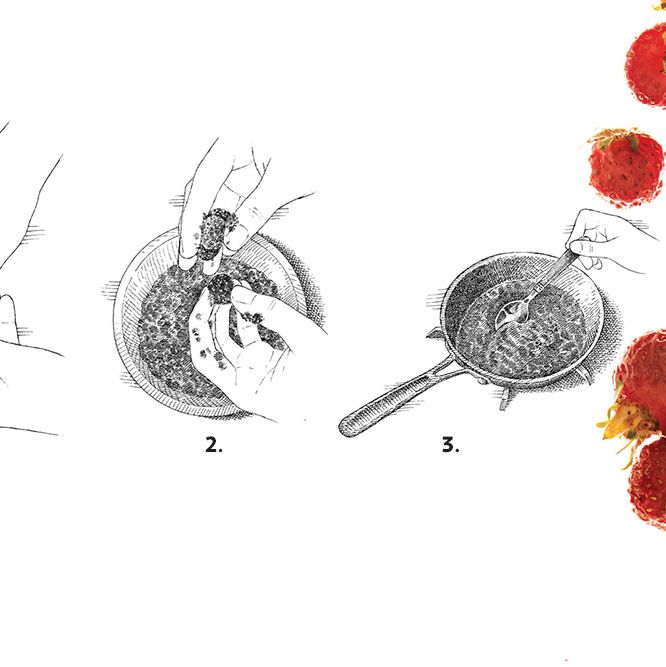 Photo: Danny Kim/Illustrations by John Burgoyne
Robustly flavored, thimble-size Tristar strawberries were developed from a wild strain in Utah and are day-neutral, meaning their growth doesn't depend on the length of the days, enabling harvests through early fall. Find them now at Greenmarket's Mountain Sweet Berry Farm and Berried Treasures stands (but get there early, before local chefs have bought up every flat). Intensely sweet the day they're picked, they're ideal for this quick jam recipe, from Nigel Slater's Ripe: A Cook in the Orchard (Ten Speed Press). Since it's light on sugar, it won't keep long, but it's perfect served warm over biscuits.
Nigel Slater's Warm Strawberry Jam
1 1/2 lbs. Tristar strawberries
1/2 cup granulated sugar
1 squeeze lemon juice
Rinse and (1) hull the strawberries, but don't dry them. Pile them into a stainless-steel or enameled pan with the sugar and lemon juice. (2) Crush the fruit with your hands or a potato masher, then place the pan over low to medium heat. Cook, stirring occasionally, for 15 to 20 minutes, (3) spooning off the pink froth as you go. The jam should be thick enough to fall slowly from the spoon, like syrup, but nowhere near thick enough to set. Slater suggests serving it still warm with scones or as a goat's-milk-yogurt topping, or stirring it into a whipped-cream-and-crumbled-meringue dessert.
This story appeared in the July 21, 2012 issue of New York Magazine.