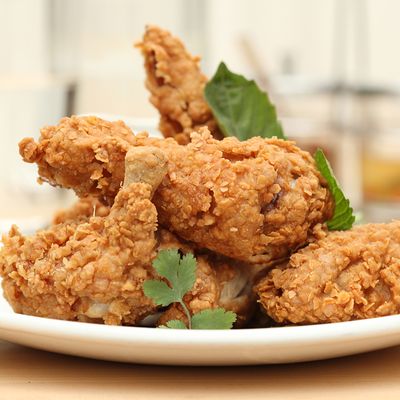 Kin's Shop's Thai fried chicken rivals Pok Pok's famous wings.
Photo: Melissa Hom
We love Pok Pok Ny: Andy Ricker's Thai restaurant really is as good as everyone says. But it's also pretty far out of the way of everything, lacks reservations, and is almost always beset by hour-plus waits for tables. Lucky for us, and everyone else, the city has plenty of other restaurants serving superb Thai grub — classic bites like spicy "drunk man" noodles and nouveau twists including a Thai burger. So read on for some of our favorite dishes, presented in no particular order, and feel free to chime in with more picks in the comments.
1. Raw shrimp with bitter melon
Where to get it: Ayada
This unusual appetizer of cool, sweet raw shrimp, served spicy with chopped bitter melon and julienned carrots is one of the Woodside favorite's many dishes that go off the beaten Thai-food trail.
2. Panang curry with duck
Where to get it: Ayada
The Malaysian-influenced Panang curry is among the best we've tasted; its lemongrass-coconut richness complements tender strips of duck.
3. Grilled pork
Where to get it: Chao Thai
Smoky and succulent grilled pork, charcoal-tinged and served on skewers, is a standout of this popular Elmhurst hole-in-the-wall.
4. Thai fried chicken
Where to get it: Kin Shop
Harold Dieterle offers this funky, lemongrass-flavored, extra crunchy fried chicken as a nightly special until it runs out, which it always does. After all, we need something to stand in for Pok Pok's famous fowl, and as Adam Platt says, the restaurant's food "promotes a sense of well-being and general bonhomie."
5. Fried broccoli with Chinese sausage
Where to get it: Kin Shop
We also like Dieterle's new fried broccoli, lightly battered veg studded with chunks of fatty Chinese sausage. It's rendered sweet, sour, salty, and a little bit spicy, by means of a coconut-gooseberry chutney and fermented plum vinegar.
6. Thai burger
Where to get it: Ngam
It's not the slightest bit traditional, but this "modern Thai" restaurant's burger is more than a bit delicious, spiced with a lemongrass curry, and with cilantro-lime aioli on the side. Spread some of that on your patty and also be sure to dip the fat sweet-potato "Chiang Mai" fries that accompany.
7. Papaya pad Thai
Where to get it: Ngam
Also innovative at Ngam is a pad Thai made with strands of green papaya in place of noodles. It's crunchier than usual, but we don't even miss the carbs.
8. Miang kana
Where to get it: Ploy Thai
The crunchy dice-up of ginger, chilies, peanuts, lime, red onion, and pork shreds, served with Thai broccoli leaves for scooping, is bracing and refreshing all at once.
9. Pla chili
Where to get it: Ploy Thai
The shophouse is also home to one of the best whole grilled fish we've tasted: simple pla chili, which arrives fresh and juicy in a mild (despite its name) soy-based sauce.
10. Ratchaburi crab and pork dry noodles
Where to get it: Pure Thai Cookhouse
This noodle dish from co-owner Vanida Bank's native Ratchaburi province in southern Thailand is as homey as the unpretentious wooden-slat-adorned restaurant. Its star is the golden homemade egg noodles, which nest around delicate shredded crab meat and juicy pork, topped with Chinese greens and scallions.
11. Papaya salad with blue crab
Where to get it: Pure Thai Cookhouse
The papaya salad here is one of the city's notable versions of this crispy, spicy Thai staple; we like it laced with chunks of blue crab.
12. Drunk Man Noodle
Where to get it: Rhong Tiam Express
Our list wouldn't be complete without the spicy-noodle dish pad kee mao, a.k.a. "drunken" or "drunk man" noodles, so named because of its popularity as a late-night snack. This version at what's left of Andy Yang's Rhong Tiam/Kurve mini-empire hits all the right spicy notes.
13. Crispy Chinese watercress salad
Where to get it: Sripraphai
This salad is a bit mind-blowing, and a justifiably famous standout on a menu where, in the words of the Underground Gourmet, everything is "nearly impossible to stop eating." Lightly fried tendrils of watercress? Why, yes — and there's some shrimp, squid, and chicken nestled among the strands as well.
14. Stewed beef tendon
Where to get it: Sripraphai
On a much different but still delicious note, stewed beef tendon offers a choice of light or dark broth; choose the latter if you can stomach blood in your soup — it's delightfully rich and cinnamon-flavored.
15. Crispy pork (moo korb)
Where to get it: Zabb Elee
There's much to love on the Isan (northern Thai) menu here, but anything with crispy pork (moo korb) is a clear winner. Try the kra pao moo korb, melting yet crisp chunks of pork stir-fried in oyster sauce with peppery holy basil.