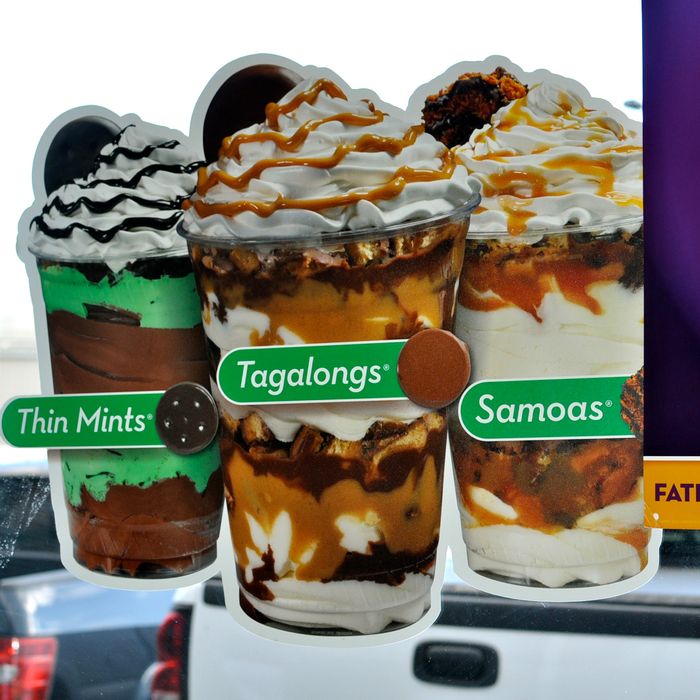 Scout's honor.
Photo: Hugh Merwin
The 2011 Girl Scout Cookie season was a bummer, what with only six flavors, theft, and the measly, late harvest arrival of Samoa-tinged lip balm — but seriously, what a banner year for Tagalongs 2012 has been! A new flavor called Savannah Smiles debuted, along with credit-card sales and a cookie finder app. Sales for this year's bumper crop of Trefoils ended on March 25, but something strange has happened in the Girl Scout cookie off-season: Girl Scout cookies are everywhere we look.
In the past few months, Samoas have taken a dip in the Texas State Fair deep fryer, Carvel launched a co-branded sundae, and we've witnessed the arrival of cookie cupcakes. There's even a Thin Mint candy bar made by Nestlé, complete with its own TV commercial and a bizarre endorsement on Leno.
Looking forward, a price increase for next year's supply was just announced, and otherwise, we're down to crumbs, which is probably why Carvel has just launched Thin Mints and Tagalongs-themed Carvelanches. A worker at a shop on Coney Island Avenue said the store will serve the Carvelanches — basically frozen ice cream shakes made with cookie pieces — "until the supply at the factory runs out." In the meantime, if anyone has a whole box of cookies left, you should probably share it maybe.