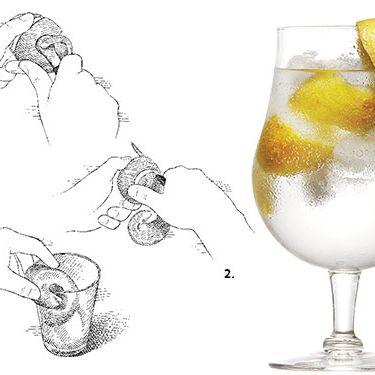 Photo: Jonathan Nesteruk. Illustrations by John Burgoyne.
With our city doing a fairly convincing impression of a Swedish sauna these days, it's a good time to reacquaint yourself with the simple pleasures of the gin-and-tonic, a drink originally designed to ward off malaria. An Englishman may have invented it, but the Spanish—thanks to the British occupation of Minorca—are truly obsessed. The secret to a top-notch G&T; (or "gin-tonic," as Spaniards call it) is not only excellent gin but good, dry tonic water. Adding a super-size twist of lemon called a horse's neck, as they do at the Iberian-themed restaurant La Vara in Cobble Hill, doesn't hurt, and results in a thirst-quencher that may not only help prevent malaria but also scurvy.
La Vara's Gin-Tonic
1 horse's-neck lemon peel
2 oz. Plymouth gin
1 individual-size (6.8 oz.) bottle of Fever-Tree tonic water, cold (available at Food Emporium)
To make a horse's-neck peel: Hold a lemon in your hand with one end facing away from you and the other end facing toward you. (1) Using a channel knife (available at Broadway Panhandler), place the blade at the end of the lemon furthest from you, and while pulling the knife toward you, cut a groove into the fruit. Turn the blade 90 degrees to the left, and cut a spiral groove around the lemon, leaving an approximately 2-inch-wide strip of peel on the fruit. When you've completed the spiral, turn the blade 90 degrees to make a final cut through the lemon. Discard the skinny peel you've made with the channel knife. (2) Using a paring knife, remove the remaining 2-inch-wide peel from the lemon in one long spiral, taking care not to remove too much pith and also not to cut through the peel. This is your garnish. Adapted from The Essential Cocktail: The Art of Mixing Perfect Drinks, by Dale DeGroff (Clarkson Potter; $35).
To make the drink: (3) Place the horse's-neck peel inside a Collins, highball, or hurricane-style glass with the curved end hanging over the edge. Add plenty of ice. Pour in the gin. Top off with approximately 4 ounces of tonic water. Serve with the remaining tonic in the bottle. Adapted from La Vara.
This story appeared in the August 6, 2012 issue of New York Magazine.