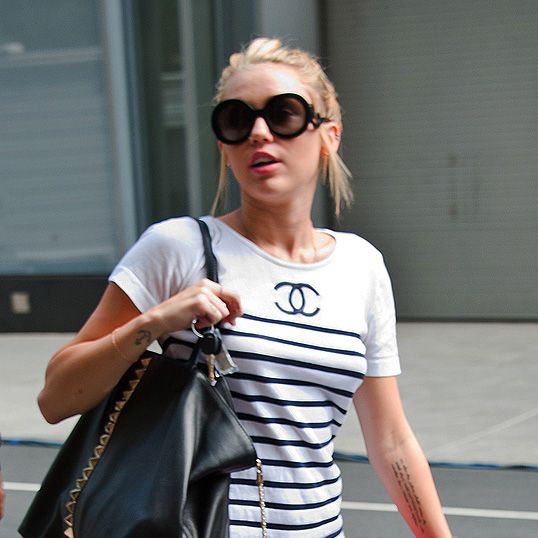 Miley in Manhattan.
Photo: Ouzounova/Splash News
This week, European soccer stars tried to outdrink each other at Lavo, and Miley Cyrus got it on at the Electric Room. Meanwhile, Bachelorette's Emily Maynard and Jef Holm fed each other chocolate cake at Abe & Arthur's. All this and more in our weekly roundup of celebrity dining.
Abe & Arthur's: Bachelorette-no-more Emily Maynard and new fiancé Jef Holm celebrated Holm's 28th birthday, as Maynard fork-fed him chocolate cake, dropping some into his lap as friends toasted them with "Welcome to the family." [NYP]
Il Buco: Ravenswood founding winemaker Joel Peterson and entertaining and style expert Simon Doonan threw a gothic dinner party for fashionistas in the wine cellar of ll Buco.
Electric Room: Miley Cyrus, 19, danced on couches in her jorts Monday night, tequila in hand, at the Dream Hotel club late Monday night. Later, she took the party upstairs to PH-D, but not before she kissed one of the girls in her group on the lips. [NYDN]
Lavo: After their tie in Yankee Stadium on Sunday, members of the Chelsea and Paris Saint-Germain football squads (including John Terry, Frank Lampard, and Ezequiel Lavezzi) partied together at the midtown club. The Chelsea men went for beer, and the French drank them under the table, putting away four magnums of Veuve Clicquot while chatting with models before hitting another club at 3 a.m. [NYP]
Old Homestead Steakhouse: Drea de Matteo of Sopranos fame sliced a porterhouse for her papa at the meatpacking restaurant. [NYDN]
PH-D: Susan Sarandon was spotted at the rooftop lounge Tuesday night after the premiere she hosted for Ai Wei Wi: Never Sorry. [NYDN]
SL: Kris Humphries and jock pals Brandon Brooks and Brian Cushing of the Houston Texans partied at the meatpacking spot Friday night, attracting a group of models to their table. [NYP]
SoHo Grand: Miley Cyrus attended a party for fashion label Zanerobe on Monday after scouting labels for fiancé Liam Hemsworth, who's rumored to be interested of starting his own label. [NYP]
Sprinkles: It's not every day you get to see a supermodel ordering bakery sweets, but a baby-bumping Adriana Lima and daughter Valentina, 2, bought six cupcakes to go Sunday. [NYP]
Toy: Taraji P. Henson was among the guests chowing down on mushroom spring rolls, shrimp dumplings, and cupcakes at the one-year anniversary party for Courvoisier Rosé at the meatpacking restaurant. [People]
Virgil's Real Barbecue: His two beefy security guards kept a crazed fan at bay as R. Kelly dined at the Times Square restaurant. [NYP]