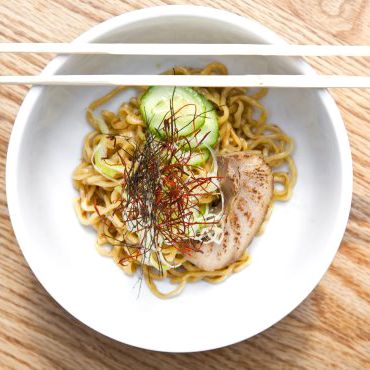 Yuji Ramen's mazeman noodles.
Photo: Jakob N. Layman/Time Out New York
The lines at noodles joints like Totto Ramen and Ippudo rarely die down, but there's something about slurping hot broth on a 90-plus-degree summer day that seems off. Lucky, then, that New York is full of cooler options to satisfy the city's ravenous Asian noodle fans: ramen and soba specials that crop up this time of year, Koreatown's chilly naeng myeon beef noodle soup … even a few chilly noodles from Smorgasburg.
1. Liang Pi Coldskin Noodles
Where to get it: Xi'an Famous Foods
Some of the city's best-loved cool noodles can be found at Xi'an's various NYC outposts, where jagged, hand-cut strips of chewy wheat noodle are tossed in a fiery sesame-oil dressing, spongy wheat-gluten nubs, cilantro, cucumber, and bean sprouts. It's vegan, and at under five bucks, it's also one of the cheapest healthy meals we know.
Related: The Cheap List [NYM]
2. Cold miso ramen
Where to get it: Minca
In summer, this East Village ramen favorite usually offers cold noodle specials. Right now that means a bowl of noodles in chilled miso broth topped with chicken, corn, hard-boiled egg, mushrooms, and a pile of bean sprouts and bamboo strips.
3. Cold soba noodles
Where to get it: Cocoron
When the temperature rises, Cocoron's signature soba bowls (oroshi, kimchee, etc.) can be made cold — some are served dipping style and some arrive in a cool broth. Look for daily specials like a lettuce-and-veggie soba salad, and a spin on the Sichuan dish bang bang ji chicken: shredded meat tossed in spicy sesame sauce over buckwheat noodles.
4. Cold rice noodle
Where to get it: Yu Nan Flavour Snack
When it's hot (or even when it's not), your best bet at this no-frills Sunset Park spot is the cold, bouncy rice noodles tossed with sweet-spicy-sour sauce and little bits of meat and cilantro on garnish duty.
Related: From Hunan to Yunnan [NYM]
5. Cold buckwheat noodles with salad
Where to get it: Vanessa's Dumpling House (Williamsburg only)
Baby-greens salad and a nice cool bowl of soba noodles, tossed together in a sesame dressing and topped with sesame seeds.
6. Cold beef soup
Where to get it: Vanessa's Dumpling House (Williamsburg only)
More substantial than the salad-and-noodle combo, this is cold beefy broth strewn with julienned carrots and cucumber and topped with beef strips and hard-boiled egg — plus, of course, strands of linguinelike wheat noodles.
7. Mazeman ramen
Where to get it: Yuji Ramen at Smorgasburg
Chef Yuji Haraguchi isn't cooking at Kinfolk Studios any longer, but you can still get his stellar brothless mazeman ramen (a style that's having a moment in Tokyo) at Smorgasburg each Saturday. Haraguchi cooks seasonally, meaning the uni-miso variety we adored at Kinfolk won't be back till next spring — for now it's all about summer vegetables, he tells us, in combinations like corn and bacon or sweet pea and prosciutto.
8. Cold noodle and sesame sauce
Where to get it: Shorty Tang & Sons at Smorgasburg
Another cool-noodle Smorg option is these classic sesame noodles, which had their heyday in the seventies and eighties, at Tang Tang's, among other places. The dish is simple: spaghetti-like noodles in a sesame-chili-peanut sauce topped with scallions.
9. Mul Naeng Myeon
Where to get it: Miss Korea
Many of K-town's restaurants offer this cold beef noodle soup, which is particularly welcome in summer. We like Miss Korea's traditional version, with beef broth, buckwheat noodles, Asian pear, and hard-boiled egg, plus an extra touch: crushed ice for maximum frostiness.
10. Hiyashi ramen
Where to get it: Menkui Tei
A year-round offering at this midtown ramen-ya is this colorful salad of wavy noodles in sesame sauce, topped with roast pork, cucumber, egg, imitation crab, bean sprouts, and pickled ginger.
11. Chilled buckwheat noodles
Where to get it: Mission Chinese Food
Since everything else at Danny Bowien's San Francisco import is knobs-to-eleven spicy, a plate of these frosty — and mercifully mild — strands is practically a necessity. Mission mixes up the cold soba formula by adding yuba to the sauce and heat-sapping grated oroshi to the toppings.
Related: Platt on Pok Pok Ny and Mission Chinese Food [NYM]
Related: Fifteen Great New York Thai Dishes That Aren't From Pok Pok Ny
Slideshow: Ten Chilly Soups of Summer [NYM]