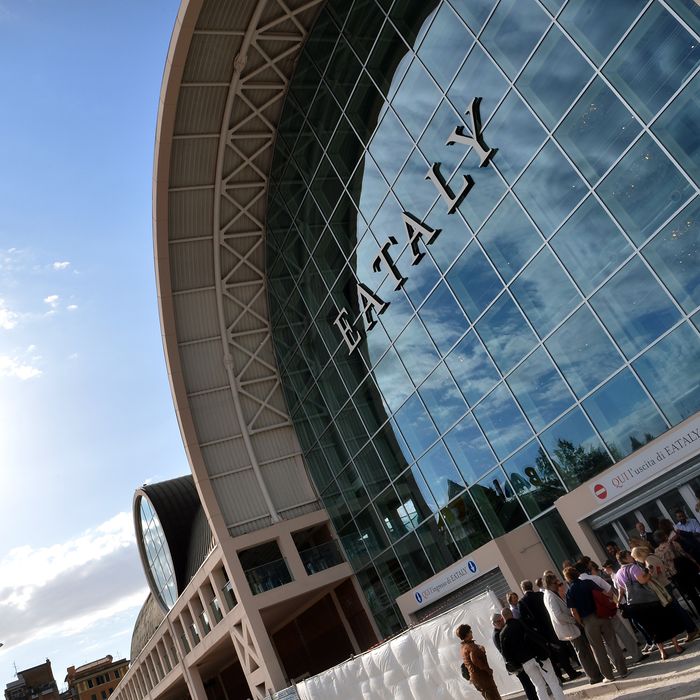 Eataly's latest success, in Rome.
Photo: ALBERTO PIZZOLI/AFP/GettyImages
Depite what Mario Batali and Joe Bastianich might want you to believe, Eataly didn't get its start in New York. It wasn't even their idea. The chain of Italian gourmet megamarts is actually the brainchild of Oscar Farinetti, the son of a pasta shop owner in Alba who now stands poised to control one of the biggest brands in the food world, with expansions in Chicago, Los Angeles, São Paolo, and Toronto planned over the next three years.
Eataly New York is perpetually mobbed with people, drawn by the allure of the Batali/Bastianich brand and the cornucopia of Italian products and restaurants that are beloved by American foodies. But how did Farinetti convince the Romans, who are famously scornful of supermarkets and fiercely loyal to their specialized neighborhood vendors, to flock to a gargantuan food mall?
Customers have crammed Eataly Roma fuller than a cannolo since it opened late last month — no easy task, considering the shop's enormous size. It's four times larger than the New York location, with 14,000 products for sale and 23 separate restaurants, including one, il Ristorante Italia, with an impressive collection of Modigliani sculptures and paintings. The right-leaning Il Foglio unironically described Eataly a "Disney World of Italian beauty."
The theme park metaphor is certainly apt: Part of Farinetti's strategy has been to pull in visitors from all over Italy and from the throngs of tourists visiting Rome, instead of relying solely on weekday shoppers picking up daily supplies. He tells me he views Eataly Roma as a destination that will cater to food-lovers from as far afield as Paris or New York (Eataly is located on the main rail line, 30 minutes from Fiumicino Airport), or nearby cities like Naples (60 minutes by train), as well the Garbatella neighborhood where I live. Almost on cue, a French tourist who describes herself as a "Slow Food appassionata," interrupted our interview to introduce herself to Farinetti.
The Roman megastore is reportedly on track to record annual sales of 80 million euros. The Eataly SRL group as a whole, now in its eighth year, is expected to top revenues of 300 million euros. When I asked Farinetti to confirm these figures, he playfully brandished a piece of paper with scribbled, unreadable figures at me, and instead launched into the economics behind Robiola Roccaverano, a soft cheese from his native region of Piedmont; Eataly sells about 300,000 euros worth of the cheese each year.
We concluded our tour of the new location at the aperitivo bar, where he offered me a few slugs of strolghino salame, and later, a hunk of Robiola and a glass of Roero Arneis, a crisp white, to wash it down. They are all from Alba, where Farinetti's family hails. The tasting provided a business lesson, too. These products come from the nineteen Eataly-owned or -partially backed farms, vineyards, and slaughter houses around the country that provide 25 percent of the products sold in Eataly shops worldwide. For Eataly Roma, Farinetti works with another 2,000 producers to supply the rest. This cooperative plus in-house production model helps Eataly maintain an iron grip over supply, not to mention margins.
The restaurants at Eataly Roma operate under a different model. Each month, a new manager is selected from one of the top osterie in the province of Rome to run one of the 23 restaurants inside the massive food hall. This month, for example, Anna Dente, a favorite of Heinz Beck, Rome's premiere Michelin three-star chef, will bring her celebrated style of cucina romana to Eataly Roma.
It's not exactly the celebrity-chef-as-business-partner model that helped turn Eataly New York into a big success, but it does provide vital street cred for a Piedmontese businessman trying to sell Romans on his brand of cibo Italiano. The local flavor is what sets each store apart from each other and prevents the chain from coming off like some gourmet Ikea, a big-box cookie-cutter store that is more or less the same no matter where you go: "In Chicago," Farinetti tells me, "we have scouts studying the market down to the grains in the bread."
Eataly Roma sits inside a massive rail terminal building originally constructed for the 1990 soccer World Cup that was abandoned and overrun over the past two decades by heroin dealers, drifters, and the homeless. Beyond the decrepit, graffiti-scrawled public housing blocks that are Farinetti's new neighbors lies the Testaccio neighborhood and its open-air food market, itself a growing attraction with with foodie tourists.
Others are clearly unnerved by the gleaming food palace in the 'hood. Just before I speak with Farinetti, I swing through the Testaccio market with my wife and girls. Our longtime butcher, or macellaio, was handing customers a brochure detailing his plan for an expanded business venture, beyond cuts of beef and sausages to artisanal cheeses, pasta, and craft brews, the very type of products Eataly Roma sells. When I bring up Eataly, his enthusiasm sank. "Not interested," he murmured.
Bernhard Warner is a Rome-based writer. He tweets at @bernhardwarner and prefers his olives stuffed with minced veal and pork and deep-fried.