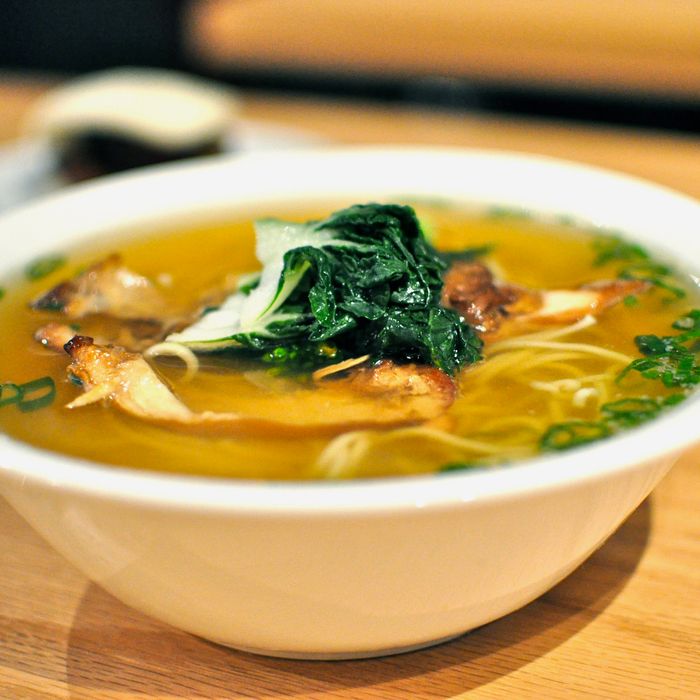 Healthy selections at Brooklyn Wok Shop.
Photo: Hugh Merwin
It's time once again for Eat Well, Grub Street's guide to great, healthy food around town. As always: This isn't diet food, and it's not calorie-conscious. It's just terrific, wholesome fare that you're bound to enjoy. Here's where to find it this week:

Monday, July 16: Beer dinner at Perilla
There's a growing pile of research about how booze is good for you, and the latest findings — from a study out last week — suggest that it can increase bone density in women. Celebrate with the five-course Monday night beer dinner at Perilla. Stillwater Artisanal Ales serves up all the skeleton-boosting brew you'll need.
Tuesday, July 17: Get your okra while you still can
Okra season is whizzing by; have you had a non-slimy preparation of it yet this year? If not, hit up the achari bhindi at midtown's Benares, where the calcium-rich veg is simmered with anti-inflammatory spices like mustard seed, turmeric, and ginger, and tossed with slivers of red onion and cherry tomatoes.
Wednesday, July 18: Hump-Day takeout, minus the Grade-D meat
We're New Yorkers, which means we're entitled to our slightly junky Chinese takeout, complete with wontons and General Tso's, every now and then. If you want to avail your chopsticks of an antibiotic-free-meat-and-farmers'-market-vegetables version of such an indulgence, we recommend Brooklyn Wok Shop, where you'll even find vegetarian and gluten-free options.
Thursday, July 19: Vegetarian tasting menu at Spice Market
Take a break from the chicken wings at Spice Market just this once and give a try to the brand-new vegetarian tasting menu. The eight-course produce-fest includes avocado summer rolls with sriracha mayo, soba noodles with mint and chile, and candied chestnuts, fruit, and coconut ice for dessert.
Friday, July 20: Play hooky — and tourist
Summer Fridays are for skipping out on work, so make like a true vacationer by trying out the new all-day poolside dining menu at Dream Downtown, which includes such lightweight warm-weather treats as ceviche and watermelon salad. Complete the vacation picture with a $175 day pass, which includes access to pool, hotel gym, towels, and a drink voucher.
Kate Lowenstein is the senior features editor at Health Magazine.