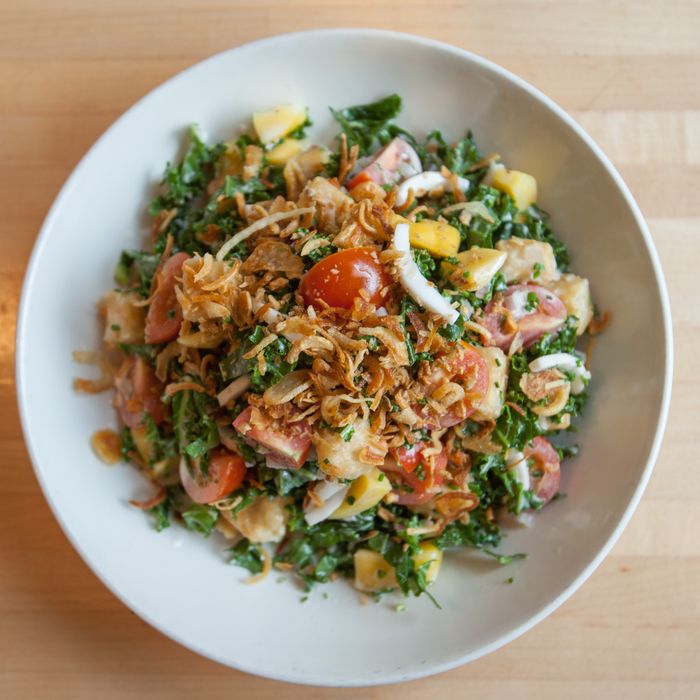 Kin Shop's kale salad with jackfruit and crispy tofu.
Photo: Jed Egan
It's time once again for Eat Well, Grub Street's guide to great, healthy food around town. As always: This isn't diet food, and it's not calorie-conscious. It's just terrific, wholesome fare that you're bound to enjoy. Here's where to find it this week:
Monday, July 23: Vegan-Friendly Bingo Night at Papacito's
What's summer in Brooklyn without an outdoor patio? It's even better when you add a round of Monday night bingo and some local, organic, vegan-friendly Mexican. Tonight, get your fill of all three (or spring for more omnivorous eats, which are also in supply) at Cody Utzman's West Coast–inspired Papacito's.
Tuesday, July 24: A Kale Remix Worth Trying
You may have thought you were tired of kale salad — the damn thing is on every menu in the city — but Kin Shop's iteration (pictured above) gives the old schtick a new spin, combining the nutrient-rich greens with jackfruit, crispy tofu, young coconut, and cherry tomatoes. And, yes, it's on the Restaurant Week menu too.
Wednesday, July 25: Healthy Smoothies on the Go
It figures that Chelsea Piers' version of fast food, Chelsea's Table, would involve lettuces from Satur Farms and locally sourced grass-fed beef (which, by the way, is higher in cholesterol-lowering omega-3 fats than the usual grain-fed stuff). Swing by the brand-new bike-through (or jog-, skate-, or Zumba-through) window today for a yogurt smoothie or something else to fuel your workout.
Thursday, July 26: Seasonal Bar Snacks in Union Square
Sidle up to the bar at Danny Meyer's Union Square Cafe, grab a glass of wine, and take your pick of Greenmarket-inspired bar snacks like caponata or beets with strawberries. Now's a great time to try the restaurant's top-notch heirloom-tomato salad too.
Friday, July 27: Summer Fare at Andaz
Order lunch off the new seasonal menu at farm-to-table spot the Shop at Andaz, where zucchini soup with tomato crostini and a raw-vegetable-and-farro salad will start your weekend off on the right foot. Or order an old favorite: Friday's blue plate special is "Fish in a Bag," hand-picked from Gotham Seafood's selection of local and sustainable seafood.
Kate Lowenstein is the senior features editor at Health Magazine.