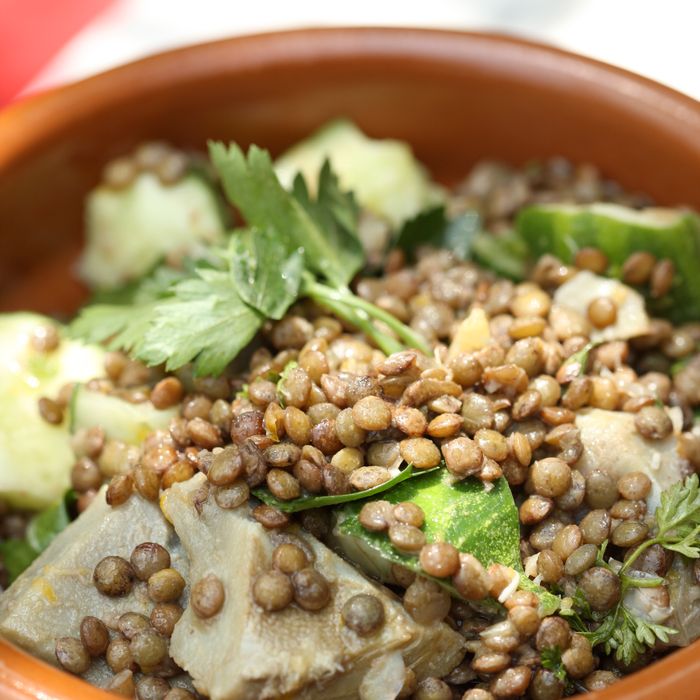 Artichokes and lentils from the Standard Plaza.
Photo: Melissa Hom
It's time once again for Eat Well, Grub Street's guide to great, healthy food around town. As always: This isn't diet food, and it's not calorie-conscious. It's just terrific, wholesome fare that you're bound to enjoy. Here's where to find it this week:
Monday, July 9: Grab Some (Cauliflower) Steak.
We're always hearing about how we should eat our greens, but new science tells us we should be thinking about our whites, too. A diet rich in ivory-fleshed produce like cauliflower, cucumber, pears, and bananas is associated with a reduction in stroke risk. The best way to get your white right now: the cauliflower "steak" at Bar Corvo, which comes topped with perfectly salty fried capers and anchovy dressing.
Tuesday, July 10: Seamus Mullen's New Standard
Seamus Mullen is no stranger to eating for good health — he treats his rheumatoid arthritis with a Spanish-food diet rich in anti-inflammatory ingredients (like fish, olive oil, and leafy greens). So it comes as no surprise that the seasonal restaurant he's working on, the Standard Plaza, serves such health-enhancing dishes as whole black sea bass with an artichoke and lentil salad. Get it while you can: The spot is only open till September 30.
Wednesday, July 11: Healthy Cheesecake — Seriously
Stop in to Fonda's East Village location for a slice of creamy rich cheesecake — or, if you're ambitious, make it yourself with this recipe. When can cheesecake possibly be healthy, you ask? When it's made with avocado and walnuts, thus jacking it up with cholesterol-lowering omega-3 fats. If that's not having your cake and eating it, too, nothing is.
Thursday, July 12: Summer Salads
We commend you for eating salad at lunch, but aren't you sick of the same old leaves and dressing? If so, get in line (there's always a line) at Chop't, which has added some new varieties to its menu: Tobago Jerk Cobb, with jerk chicken, jicama, and habanero honey-mustard dressing; and the Local Farmstand Cobb, with grilled local peaches, walnuts, local goat cheese, and balsamic.
Friday, July 13: Drink Your Vitamins
You've probably heard by now that fresh juice is an excellent way to flood your system with nutrients. Drinking it unpasteurized (i.e., not heated) means you get all those valuable plant compounds that protect you from cancer and other diseases. For anyone who thinks it's easier (and cheaper) to grab some O.J. at home: Tropicana has those compounds heated out of it. (And Vitamin Water never had them in the first place.) Check out Juice Generation, where they go way beyond the tired carrot-and-orange schtick. Case in point: a blended kale, young coconut, and banana cocktail, served tiki-style in a coconut shell.
Kate Lowenstein is the senior features editor at Health Magazine.