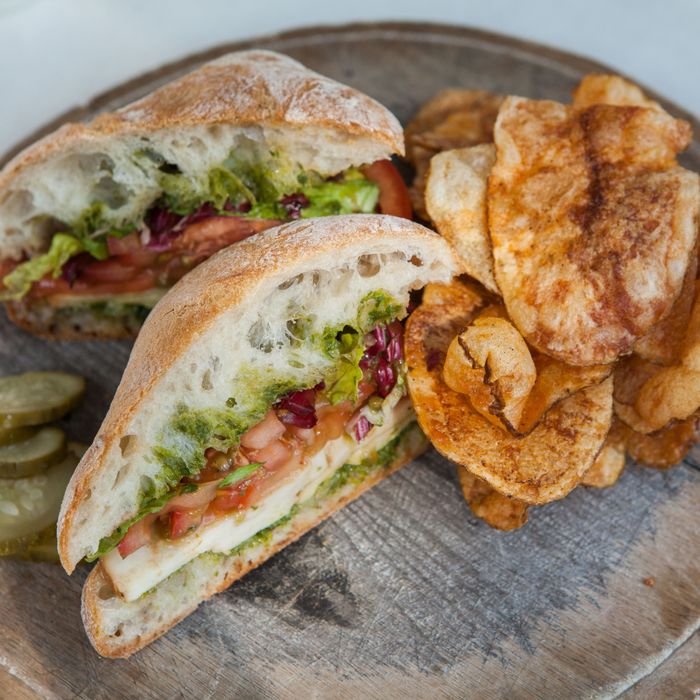 The brand-new tomato sandwich at Peels.
Photo: Jed Egan
It's time once again for Eat Well, Grub Street's guide to great, healthy food around town. As always: This isn't diet food, and it's not calorie-conscious. It's just terrific, wholesome fare that you're bound to enjoy. Here's where to find it this week:
Monday, July 2: Chinese Like You've Never Had It Before
Yunnan Kitchen's regional Chinese food might surprise you with its unfamiliar flavors (bet you've never tried mountain flower oil) and veggie-friendly focus. Try the tofu ribbon salad with mint, cilantro, red onion, and chiles, the scrambled egg with jasmine flowers, and a pitcher of iced puerh tea, which is thought to lower cholesterol in addition to being just plain tasty.*
Tuesday, July 3: A Produce-Packed Sandwich Lunch at Peels
Tomato season is in full swing, and you should be taking advantage for the sake of your health and your taste buds. Stop into the sun-soaked dining room at Peels for lunch to try the freshly minted summertime veggie sandwich: beefsteak tomatoes marinated in balsamic and extra virgin olive oil, with butter lettuce, basil, and smoked mozzarella, served on toasted ciabatta.
Wednesday, July 4: Lobster Rolls for America
If you're braving the fireworks at Battery Park tonight, skip the barbecue in favor of stocking up on omega-3s and vitamin B12 in the form of everyone's favorite summer eats: Ed's Lobster Bar Kiosk is hawking lobster rolls, Caesar salad, and grilled corn. And take note: The restaurants are closed today, so it's the kiosk or bust.
Thursday, July 5: Order in From Macao
Did you know that all those nutrients in your greens are best absorbed if you eat 'em with a bit of fat? Take advantage of this good news with sautéed greens — like the garlic-and-ginger-spiked choi sum or the tatsoi, red cabbage, and seared cuttlefish — from Macao Trading Co. Even better news: As of this summer, they're delivering.
Friday, July 6: Upgrade Taco Night
Hit up the Union Square Greenmarket for super traditional heritage corn tortillas made by Harlem women's collective Hot Bread Kitchen. The rounds are made using the ancient Aztec and Mayan process of nixtamalization, which mixes corn with lime — as in, calcium hydroxide, not the fruit — for both better taste and better health: You can count on getting your niacin and some important amino acids from these rich, nutty taco wrappers.
Kate Lowenstein is the senior features editor at Health Magazine.
*This posted has been adjusted to accurately reflect Hot Bread Kitchen's Greenmarket schedule.