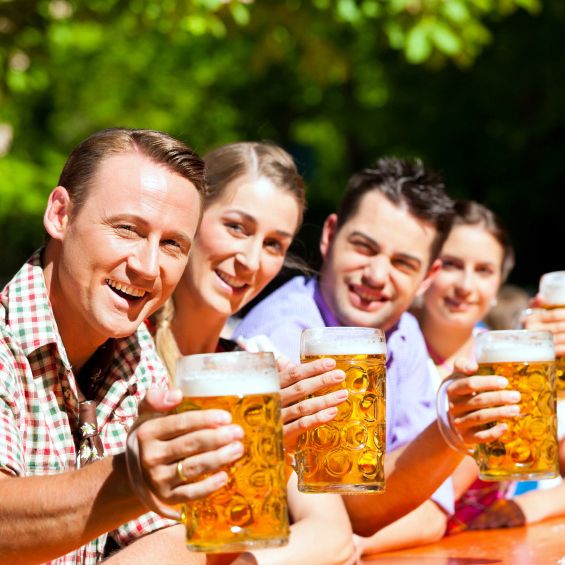 Soak it up from Park Slope to Staten Island.
Photo: Kzenon/iStock
There's still plenty of time to get your day-drink on this summer. After all, isn't that what rosé and watermelon margaritas were created for? Here are twelve (non-rooftop) options with outdoor spaces, open early enough so that your coffee and cocktail buzz become one — though your vision might become two.
Bar Seven Five Beer Garden
Andaz Wall Street Hotel, 75 Wall St., at Water St.; 212-590-1234
The lawn adjacent to the hotel — with room for 50 seats — is open for a nip after work or, if you can't wait that long, a late boozy lunch. Good for finding German pretzels, sausages, and maybe someone to pay for those German pretzels and sausages.
Hours: Monday through Saturday, 2:30 to 9 p.m.

Brooklyn Ice House
318 Van Brunt St., nr. Pioneer St., Red Hook; 718-222-1865
Brooklyn Crab's been getting all the Red Hook attention these days, but for divey outdoor day drinking, the best of the lot is still Brooklyn Ice House, where, if you're picky, there's a selection of over 70 beers, and if you're not, you can score $2 PBRs during happy hour.
Hours: Daily, noon to 4 a.m.

Rudy's Bar and Grill
627 Ninth Ave., at 44th St., 646-707-0890
For those who like to keep it old school, it doesn't get much better than this dive bar — with a utilitarian outdoor space — that's been around since before your grandpa was legal. Also, It opens at 8 a.m., proving that the key to longevity is the occasional liquid breakfast.
Hours: Monday to Saturday, 8 a.m. to 4 a.m.; Sunday, noon to 4 a.m.

Gowanus Yacht Club
323 Smith St., at President St., Carroll Gardens
Every year the good boys and girls of Carroll Gardens eagerly await this seasonal, cash-only beer garden on the Gowanus Canal, so they can feast on their $1 oysters, clams, and two-cans-for-five-bucks deal.
Hours: Monday to Friday, 4 p.m. to 2 a.m.; Saturday and Sunday, noon to 3 a.m.

La Marina
348 Dyckman St., nr. Staff St.
A former docking spot for yachts, a trip to La Marina could double as a mini-vacation, with 75,000-square-feet of Hudson River waterfront views and many beach tables, perfect for digging your toes into the sand while sipping on sangria.
Hours: Monday to Friday, 4 p.m. to 12:30 a.m.; Saturday and Sunday, noon to 12:30 a.m.

Lowlands Bar
543 Third Ave., nr. 14th St.; Gowanus; 347-463-9458
Booze it up in a secluded picnic-tabled backyard just a few blocks from Fifth Avenue. What time is it? Who cares? They have Wi-Fi and twelve beers on tap.
Hours: Monday to Thursday, 5 p.m. to 4 a.m.; Friday, 3 p.m. to 4 a.m.; Saturday and Sunday, 1 p.m. to 4 a.m.

4th Avenue Pub
76 Fourth Ave., at Bergen St., Park Slope, Brooklyn; 718-643-2273

Come for the free popcorn, stay for the 27 exotic draft beers and convivial vibe in the outdoor garden. Arrive before 8 during the week for $2 off drinks, or show up anytime on Saturdays and Sundays for $4 Bloody Marys.
Outdoor hours: Monday to Friday 3 p.m. to 4 a.m., Saturday and Sunday 1 p.m. to 4 a.m.

LIC Bar
45-58 Vernon Blvd., at 46th Ave.; 718-786-5400
When the weeping willows are in bloom, the patio out back makes pints even more pleasant; and there's a back-back room for parties on the opposite side. LIC is strictly a beer and bar-drink establishment — no specialty cocktails here — with an impressive selection of single-malt scotch.
Hours: Monday to Friday, 4 p.m. to 4 a.m.; Saturday, 1 p.m. to 4 a.m.; Sunday, 1 p.m. to 2 a.m.
Killmeyer's Old Bavaria Inn
4254 Arthur Kill Rd., nr. Sharrots Rd., Staten Island; 718-984-1202

A beer and schnitzel joint worth the trip to the Isle of Staten, featuring international bands and beer — over 100 imported from the old country — in an open-air courtyard with a gazebo bar, firs, and walls that completely block out the sights of the historically brick-producing neighborhood known as Kreischerville.
Hours: Monday to Thursday, 11 a.m. to 10 p.m.; Friday and Saturday, 11 a.m. to 11 p.m.; Sunday, noon to 9 p.m.

Frying Pan
Pier 66a, at West 26th St., 212-989-6363
We couldn't do a day-drinking roundup without including this historic salvaged lightship, the city's ultimate "dive" bar. If you can brave the crowd, it's a glorious experience, bobbing on the Hudson with a bucket of beer and lobster carcass after lobster carcass piling up in front of you. And to that we say: Call us when you get a table!
Hours: Daily, noon to midnight

The Gate
321 Fifth Ave., Park Slope, Brooklyn; 718-768-4329
Alfresco drinking to cool off after that Frisbee game in Prospect Park, either with pals or your pooch. This is also the spot for fans of dark beer.
Hours: Monday, 3 p.m. to 2 a.m.; Tuesay to Friday, 3 p.m. to 4 a.m.; Saturday, 1 p.m. to 4 a.m.; Sunday, 1 p.m. to 2 a.m.

Crown Victoria
60 S. 2nd St., nr. Wythe St., Williamsburg, Brooklyn; 718-387-0003
Once a repair shop for cop cars, the current incarnation of this converted garage is a spacious, laid-back bar and beer garden, replete with a bar fashioned out of reclaimed wood from the Coney Island boardwalk, two patios, and 24 pours on tap. If you get bored with the booze, you can always try your hand at the Ping-Pong tables, badminton tables, and bocce courts.
Hours: Daily, 3 p.m. to 4 a.m.