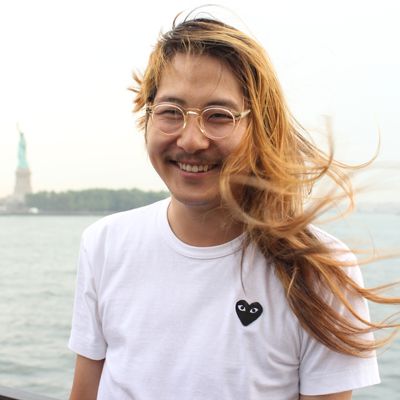 "After such a crazy day, it was really nice to sit there and have some guy sing us his version of
Crash Into Me
."
Photo: Melissa Hom
If you see Danny Bowien standing on the terrace of Blue Ribbon Sushi Izakaya "having a Sex and the City" moment with his long bleached hair and see-through white shorts, do not call him a hipster. "That's not who I am!" the Mission Chinese Food superstar tells Grub Street while juicing at Equinox. "Hipsters don't have fucking jobs; if they do have a job, it's not what they want to be doing. I'm married; I don't do drugs; I don't have a trust fund; I have motivation! I don't drink PBR or smoke Parliament Lights." It's been a big week for Bowien, whose burning-hot restaurant is getting great reviews, prompting him to celebrate with "a billion bottles of really cheap, shitty Champagne" at a karaoke bar where he once sang Aerosmith while staring into David Chang's eyes. Read all about his wife's Korean coleslaw, a "super-good" steak at Wolfgang's, and eating McNuggets with some major chefs in this week's New York Diet.
Friday, July 20
Our job is to make food for people and make them happy, but a lot of the time, taking care of yourself slips away. In San Fransisco, I gained 35 pounds. I'd drink six beers every night and loved ordering delivery. There were boxes and boxes of Chinese food everywhere. It got really gross. I'm so much healthier now. I make myself eat before 10 p.m. now, and I switched to white-wine spritzers, and I feel much better about myself.
Although … we just did a dipping sauce theme party with the the guys from Roberta's, Del Posto, and Torrisi. We all made these sauces, then went to McDonald's and got 200 McNuggets and 40 orders of fries — and then we took it all to a karaoke bar. You can't get too caught up in eating only the finest.
Anyway, this particular day, I was stuck in Detroit on a layover, so I walked around. They gave us vouchers for a free meal, so I just gave it to some family; and then karma happened because someone gave me a free ticket to the end of a baseball game! I had a hot dog there. Then I went to Slows Bar B Q. I ordered smoked wings and a bunch of white-wine spritzers; they were looking at me like, "Who ARE you?" I purposely over-ordered ribs and brisket and just shared it all with my taxi driver who I'd met earlier. He was like, "You're an animal, what's the deal with you?"
Saturday, July 21
Quick flight home, then went straight to the restaurant to see Angela, my chef. I'm not the manliest-man chef. 90 percent of the staff at Mission are women … and I think that's because when I first went to visit Christina Tosi at her commissary kitchen, I realized it's mostly girls there, and how they were so efficient and fast! She has the whole thing under lock. I've stolen a lot of ideas from her. After that, I was like, I'm kinda tired of the macho-guy-chef thing. I don't want to play ball tap in the kitchen. I don't want to get hit in the balls every five minutes.
Went to ABC Kitchen, one of my favorite restaurants, for lunch. Had a bunch of sliced snapped peas, sooo good; also the diver scallop with pickled cherry. I always get whatever chicken salad they have. They're super-nice there and now I've probably eaten there twenty times. They sneak in the fact that you're eating healthy there, because it's so delicious. They sent over a whole-wheat pizza called cherry pie. It had a savory cherry jam instead of a tomato sauce. It actually made perfect sense.
Then I went back to the restaurant. There was a three-hour wait. I feel bad that people are waiting, but we do take reservations. And we have a free keg of beer serving all the beer you can drink while you wait. People think we're going to be assholes to them and it's the opposite. You have no idea how important it is to me that no one be an asshole.
Went to Ushiwakamaru. It's a really special place. I generally try to order the hikari mono, which is the shiny fish. I've worked at a lot of sushi restaurants and sushi chefs tend to be fairly grumpy. Because they take themselves seriously, as they should, and when people order super-dynamite rolls and salmon, avocado, and cream cheese rolls, it's frustrating for them. This style excites them; it takes work and mastery. Every time I'm there I see Mark Ladner from Del Posto … so I sent over a glass of sake. And then Mark, being Mark, sent over A BOTTLE. So I got tanked.
Sunday, July 22
I went to the restaurant really early and made a Yucatanian soup for everyone. It's like a chicken soup, but it's finished with this pineapple habanero, and avocado, pickled red onions, and cilantro. Really bright!
Met my wife in Koreatown at Gahm Mi Oak … seolleongtang is the blandest thing in the world, but when you've been tasting schezuan food all day, bland is good. It's basically a bone-marrow soup, the fat almost slides into the broth, but it's actually clean and light. And we got an order of Soju, braised beef, cut in really beautiful slices and served warm. It's dressed with lot a pear vinegar and scallions and a bunch of really bitter greens on top. It's so good. Meat salad!
Tried to chill out at home, which means reading cookbooks. My wife watches intense dramas like Breaking Bad but I can't watch anything stressful.
I like steakhouses, so we went to Wolfgang's for dinner because I hadn't been yet. I like Luger's but they're sometimes kind of mean people. Wolfgang's are the nice guys. But literally, it's the exact same thing as Peter Luger. I'm surprised they haven't gotten into trouble. I kind of went out of control: half a dozen clams on the half shell, a piece of shrimp cocktail, some bacon, and porterhouse for two, and they sent us the skillet potato homefries. Super-good. I lovvve the mutton chop at Keens, so I had to try it here. Then I passed out.
Monday, July 23
Gym and juice.
My wife tries to help out, she's so awesome. She's an excellent cook and made Korean fried chicken for the staff. In Korea, you usually get this coleslaw with pineapple and yogurt instead of mayonnaise, so it's really refreshing. I skipped the chicken and ate the slaw.
For lunch I had a meeting at Blue Ribbon Sushi Izakaya. What's really crazy is not a lot people know it's there still, so it's easy to get in. They have a balcony, so I go and sit after work and I feel like I'm on Sex and the City. It's really cool.
I hit up Bereket a lot and had their shepherd's salad with sliced lamb. Really, really good. Then I went to bed early because Tuesday was going to be big.
Tuesday, July 24
This was the craziest, most awesome day of my entire life because I knew our New York Times review was coming out. Normally, I can internalize nerves and be positive about everything. But I was so stressed out that I woke up and puked. And then I didn't eat anything at all.
We got the review, and it was great. Everyone was excited, plus it was one of our chef's birthdays. So around 9 p.m., I grabbed our chef de cuisine Angela Dimayuga and I was like "Let's go." I took her out to Ushiwakamaru. She's been working so hard, so it was special, you know? We had to wait for our table, which was funny, so we went to a bar down the street and it was open-mike night. After such a crazy day, it was really nice to sit there and have some guy sing us his version of "Crash Into Me."
By the time we got back to the restaurant, everyone was there. Tosi brought us the nicest cakes. The Prime Meats guys brought stuff. We got way too much alcohol. I walked to our favorite karaoke bar Karaoke Boho — where I usually like singing "Mother '93" by Danzig — but we also had a Lilith Fair night recently which was a little sleepy but the Alanis Morissette part was great. Anyway, I got us a room and a billion bottles of really cheap, shitty Champagne. We had like 45 people there, but I dipped out early. Didn't want to get too effed.
Wednesday, July 25
I started off at Landmark Diner because I like the experience there. The waitstaff are these assertive and efficient Chinese ladies, they're like "What do you want?" So I got a grilled chicken and a Greek salad and Diet Coke and orange juice. I went home, sat on my floor and ate that. Then I paid off my student loans FINALLY!
I did a photo shoot with this Japanese clothing company and they were all very polite, and they were like "You less fat now." And I'm like, yeah, I hope so. Had some rice crackers and a couple of Diet Cokes. Then I shot the New York Diet picture at Ellis Island … because … why not? You might be able to see my wiener in the pictures; It was raining and cold. I was hoping she could crop that out.
Afterwards, Frank Falcinelli from Frankies hooked me up at Yasuda. He's been so good to me. Also Dave Chang has been insanely cool — he's just always out of town. I was scared meeting him at first. How do you meet someone who's like an idol to you? The first time I saw him was actually at a karaoke bar. We were standing on the opposite ends of the room, both with microphones, and that Aerosmith song "I Don't Want to Miss a Thing" came on. So we were just singing it, staring at each other.
At Yasuda, Frank and I sat right in front of Yoshi, the head chef. I asked for the shiny fish, and Frank and I talked about everything going on. He just kept telling me: Enjoy the ride … enjoy the ride.