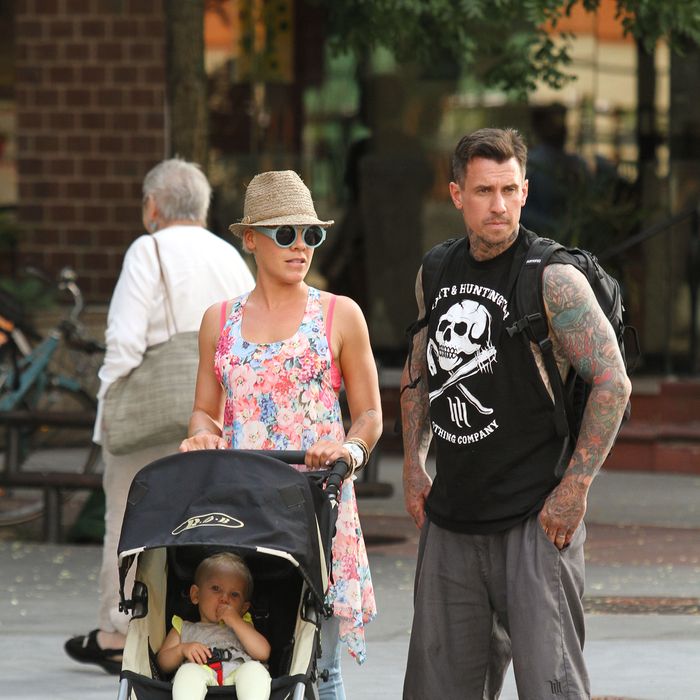 Pink, Carey, and Willow brunch.
Photo: SWAP/ Splash News
This week, just about everyone — and we mean everyone — had something to do in the Hamptons. Holding it down city-side were Beyoncé and Jay-Z, letting loose (for 30 minutes) at ex-rival Nas's album release fête at Bagatelle; Paul Oakenfold ate $400 of sushi at Toy like a boss; and Demi Moore hung with pal Madonna's ex-beau A-Rod at The Lion (uh oh). All this and more in our weekly roundup of celebrity dining.
Bagatelle: At former-rival-now-pal Nas's album-release party, Beyoncé and Jay-Z popped in for 30 minutes, where the World's Most Beautiful Woman danced to tracks from the LP Life Is Good in the VIP room and Jay-Z chatted with the guys. [People]

Brasserie Beaumarchais: Pink and Carey Hart dined outside at the meatpacking spot with daughter Willow in tow. [NYP]

Candle Café: Freida Pinto and a girlfriend were spotted at the UES vegan restaurant. [NYP]

John Dory Oyster Bar: Erin Heatherton dined with beau Leonardo DiCaprio. [NYP]

McKittrick Hotel: The hotel's new rooftop garden hosted a party for Pilobolus's run at Joyce Theater, and Jim Dine, Reeve Carney, Angelica Page, and Joel Grey were in attendance. [NYP]

Siro's: Kevin Dillon of Entourage fame consumed a six-pound lobster at the midtown spot alongside Roger Darling and Fox Business Network's Charlie Gasparino. [NYP]

The Lion: Demi Moore hung out with bestie Madonna's ex-boyfriend A-Rod and two others in the West Village's private dining room. The group stayed until 3 a.m., and A-Rod's current squeeze, Torrie Wilson, wasn't part of the group, although his camp says they're "definitely still together." [NYDN]

The Tippler: Jack Huston of Boardwalk Empire partied at the Chelsea spot for UrbanDaddy and Chivas's twenties-themed fête. [NYP]

Toy: After taking a private seaplane back from an exclusive Montauk hotel gig, D.J. Paul Oakenfold headed straight to the restaurant inside Hotel Gansevoort for a late dinner. He had a Toy boat, $400 of truffled lobster and sea urchin presented with — what else? — mirrored glass and LED lighting. He then requested to meet chef Doron Wong to give his compliments. [NYDN]