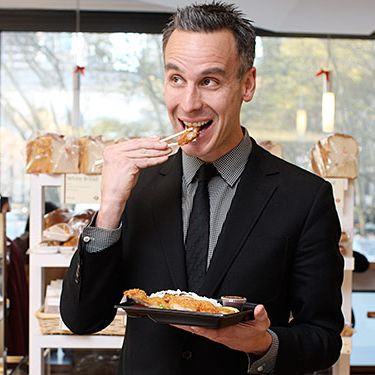 What's that jacket, Margiela?
Photo: Melissa Hom
We would have called it Banappétit: Today the Times brings word of a new marketing partnership between Bon App and Banana Republic. What to expect: a new line of clothes called Desk to Dinner that — you guessed it — "are intended to be versatile enough to be worn from a day at the office to a night out to eat."
Expect the whole thing to kick off next week with a marketing blitz "through print ads, direct mail, e-mail, digital content and social media like Facebook, Twitter and an Open Table blog," and, of course, the actual clothes launching in Banana Republic's stores.
The food glossy is already testing out its marketing potential with a line of cookware sold on HSN, but this is a far less traditional move for a cooking magazine to try. Granted, editor in chief Adam Rapoport came from GQ, and is pretty obsessive about his clothes, so Desk to Dinner isn't totally out of left field. We'll find out soon enough if customers feel the same way.