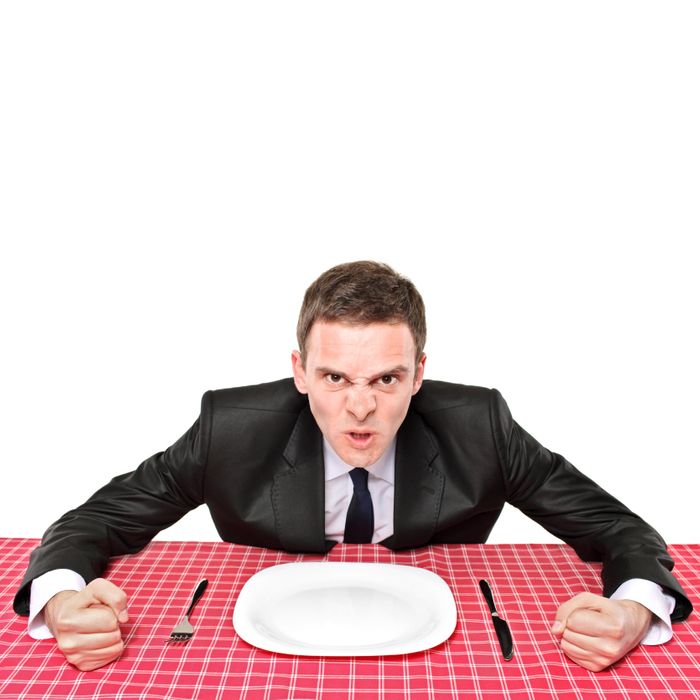 Nom-tastic.
Photo: iStockphoto
Yesterday, we presented our list of food-writing words and phrases that drive us crazy: Unctuous, sammies, mouthfeel, etc. Based on the feedback we got, we aren't the only ones who feel strongly about overused turns of phrase (do yourself a favor and read through the comments, if you haven't already). But, in an effort to really make the point, we also asked Twitter users to cram as many food-clichés as they could into 140 characters. You can see all the entries here — a special nod goes to Ruth Bourdain and the Times's Oliver Strand, who both put their expertise to work — or you can check out our five favorite entries, below.
@grubstreetny The velvety-smooth bisque's unctuous mouthfeel is lobster-tastic with its toothsome tidbits. To. Die. For. #bannedfoodwords— Jenn Robinson (@GoodJennBadJenn) July 25, 2012

@grubstreetny The toothsome, unctuous BK Broiler. #bannedfoodwords— Doosh Boring (@dooshboring) July 25, 2012

This isn't technically a sentence, but we're giving it credit anyway for using two of the worst food-writing words to remind us that something called the "BK Broiler" once existed.
@grubstreetny #bannedfoodwords "Notice the way that it just melts in your mouth; it really is an mouth orgasm." (note: mouth-gasm is worse)— Thom TheGlassPhoenix (@TheGlassPhoenix) July 25, 2012

@grubstreetny Foodies unimpressed by this fusion eatery - meltingly tender pork belly: a must; rest of bill of fare: meh. #bannedfoodwords— Emily Chu (@emilychu) July 25, 2012

Thanks to everyone who played along — and we'll be in touch with the winners soon about the prizes we promised.
It won't be possible to eradicate all these words immediately (one will probably sneak onto Grub Street soon, now that we've made such a big stink about it), but hopefully the world will be a slightly less unctuous place going forward.
Earlier: Stick a Fork in 'Em: Which Food-Writing Clichés Should We Toss Out Forever?