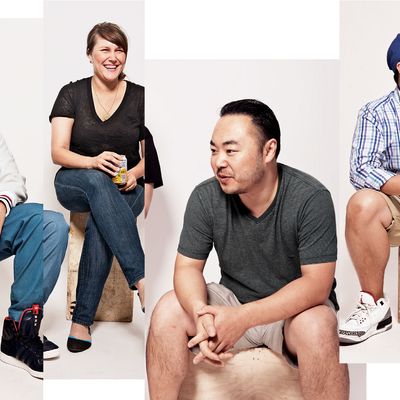 From left: Eddie Huang, Lindsay Salminen, Hooni Kim, Dale Talde.
Photo: Danny Kim.
On the cheap-eats front, this has been the year of ramen and buns, Sichuan and Shaanxi. The buzziest openings were both Asian imports—not from the Far East but from the West Coast: American cooks who found their calling through passion, not ancestry. This new restaurant tribe shares inspiration, ingredients, and attitude—a legacy, many of them say, of Momofuku's David Chang—and also engages in perennial debates about ownership, appropriation, authenticity, and the F-word (fusion), not to mention who can (or should) cook this often irreverent food. (Who can eat it is less controversial, happily.) Here, some of today's foremost practitioners.
Eddie Huang
Erstwhile lawyer, chef-co-owner, Baohaus (238 E. 14th St., nr. Second Ave.; 646-669-8889).
It's not fusion, it's: Authentic Taiwanese.
Foundations: "I was working in my dad's restaurant, and I said, 'Maybe I should go to culinary school.' " [In what he calls his father's "Asian voice"] " 'You dumbass! Why you pay? You stay here; we pay you!' My dad killed culinary school in five minutes."
NYC influence: Crowd-sourcing: "A customer will say, 'I love po'boys,' and I'll put an oyster in a bao."
Favorite ingredient: Shallots fried in lard.
Overused ingredient: "Sichuan peppercorns."
Favorite cheap eats: Great NY Noodletown, Village Yokocho, El Malecón, and WonJo.
Lindsay Salminen
Chef, No Name Bar (597 Manhattan Ave., nr. Driggs Ave., Greenpoint; no phone).
It's not fusion, it's: A noodle bar (in a dive bar).
Background: Cooked at Pies 'n' Thighs and Diner; started playing with Asian spices when catering vegan lunches for a record label.
On authenticity: "I'm not shy about adding an untraditional spice or flavor."
Signature dish: "Possibly the chile-cumin sesame noodles—adding different spices to a familiar flavor combination."
Quirky dish: The braised-oxtail ramen soup with long beans and mustard greens. "I'm always glad to serve some oxtail."
Favorite ingredient: Black garlic.
Favorite cheap eats: La Superior.
Hooni Kim
Chef-owner, Danji (346 W. 52nd St., nr. Ninth Ave.; 212-586-2880) and Hanjan, opening this fall.
It's not fusion, it's: Korean.
Background: Daniel and Masa. "I apply everything I learn to Korean food. I think that makes [it] taste better."
NYC influence: "My target isn't Korean Koreans. I serve food the way New Yorkers like to eat."
On authenticity: "We get many ingredients from farms in Korea."
Quirky dish: Kimchee-bacon-chorizo paella. "It's not just the Spanish that have crust on rice."
Favorite ingredient: "Toasted white-sesame-seed oil. I use it
like Italian chefs use Manni olive oil."
Overused ingredient: "MSG. It's cheating!"
Favorite cheap eats: Daheen Wong Mandoo for dumplings.
Dale Talde
Chef-co-owner, Talde (369 Seventh Ave., at 11th St., Park Slope; 347-916-0031) and the soon-to-open, cheap-eats-friendlier Pork Slope.
It's not fusion, it's: Asian-American. "We're pretty proud to call it that. It is who I am." (He's Filipino-American.)
Background: Top Chef-testant, formerly at Morimoto and Buddakan.
Foundations: Draws from Japanese, Chinese, Korean. And: "At the heart of what I do is a lot of French technique."
NYC influence: "Brooklyn is reasonably affordable, so I can take risks."
On authenticity: "There's two kinds of cooks: good and bad."
Quirky dish: Perilla-leaf wrap with bacon-tamarind caramel.
Favorite cheap eats: Yakitori Taisho.


From left: Jason Wang, Miguel Trinidad, Andy Ricker, Danny Bowien. Photo by Danny Kim.
Jason Wang
Owner, Xi'an Famous Foods (various locations) and Biáng! (41-10 Main St., Flushing; 718-888-7713).
It's not fusion, it's: Street food of Xi'an, in northwest China.
Background: Business school, French Culinary Institute.
Foundations: "My father worked [in] Chinese restaurants for over a decade."
Signature dish: "Liáng pí cold-skin noodles. We're the only store selling an authentic version."
Quirky dish: "The Spicy and Tingly Lamb Face Salad, created by my father circa 2005 because he had lamb heads left [over]."
Favorite ingredient: "I prefer lamb over all other meats."
Overused ingredient: "Truffle oil, if used to drive up the price."
Favorite cheap eats: Half a duck with rice.
Miguel Trinidad
Chef-partner, Maharlika (111 First Ave., nr. 7th St.; 646-392-7880).
It's not fusion, it's: Modern Filipino.
Background: Chef at Lola, where he met Maharlika partner Nicole Ponseca.
Foundations: Trinidad is Dominican, not Filipino. "I learned from other people's mothers."
On authenticity: "Mario Batali is not Spanish, and Jean-Georges is not Malaysian. I think I can make the food equally delicious."
Signature dish: The sisig, a plate of pig face and belly.
Quirky dish: Eggs Imelda, a take on eggs Florentine.
Favorite ingredient: Coconut and palm-sugar vinegars infused with garlic, ginger, and chile.
Favorite cheap eats: Woorijip and Hop Kee.
Andy Ricker
Chef-owner, Pok Pok Ny (127 Columbia St., nr. Kane St., Columbia Street Waterfront District; 718-923-9322) and Pok Pok Wing (137 Rivington St., nr. Norfolk St.; 212-477-1299).
It's not fusion, it's: Regional Thai and Vietnamese.
Background: Founded Pok Pok in Portland, Oregon.
Foundations: Travel and studies in Southeast Asia.
On authenticity: "We do not make any of this up."
Signature dish: Per diners and the media: chicken wings. For Ricker: laap meuang.
Favorite ingredient: "I could not run the restaurant without fish sauce."
Overused ingredient: Butter.
Favorite cheap eats: Xi'an Famous Foods and Shu Jiao Fu Zhou.
Danny Bowien
Chef, Mission Chinese Food (154 Orchard St., nr. Rivington St.; 212-529-8800).
It's not fusion, it's: Weird Chinese food, as he calls it.
Background: Sumile and Tribeca Grill, before opening Mission Chinese in San Francisco.
Foundations: He flew to China with his cooks to "see where they're from and taste the food."
Signature dish: "The mapo tofu really got us started on the Sichuan thing."
Quirky dish: Kung-pao pastrami, inspired by his Oklahoma upbringing and barbecue.
Favorite ingredient: Sea kelp. "We don't use MSG, so we braise with seaweed."
Favorite cheap eats: The Lower East Side's Popeyes, run by a Chinese couple "who really give a shit."
Plus:
• The Cheap List
• A Survey of Pizzaiolo Innovation
• The Bun Explosion
• The Fish Sandwich Craze
• Platt Ranks Dirt-Cheap Meals
This story appeared in the July 16, 2012 issue of New York Magazine.