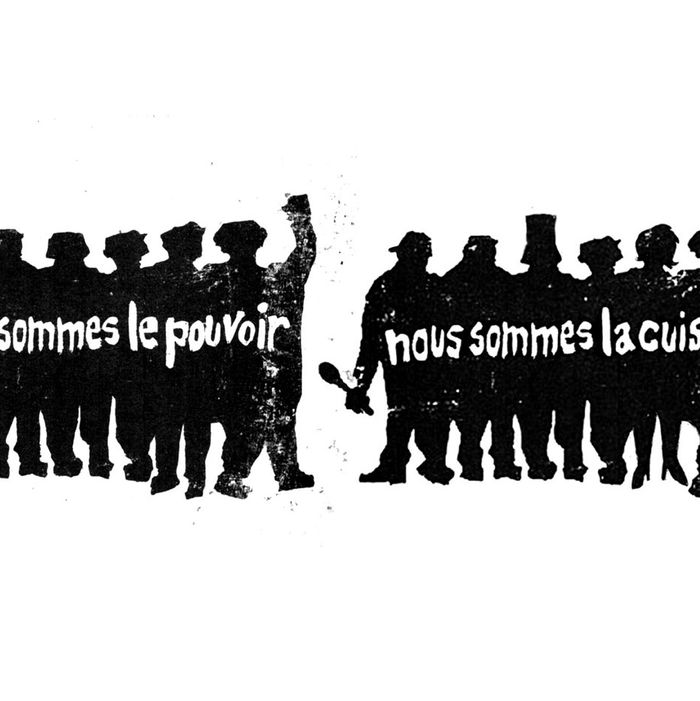 New Andrew Carmellini restaurants are anticipated like blockbusters, complete with preopening viral marketing campaigns — the Dutch had a teaser trailer, after all. So it's fitting that the Local East Village noticed the first bits of branding for the new French restaurant the chef and restaurateur is opening in Noho, with partners Luke Ostrom and Josh Pickard, in the defunct Chinatown Brasserie space.

Windows at 380 Lafayette Street, which is under renovation, were yesterday covered in papers depicting a posse and the words "nous somme la cuisine," a riff on the iconic silk-screened poster that went up all over Paris after De Gaulle left France in May of 1968, during the protests. Only those posters read "nous sommes le pouvoir," or "we are the power." Carmellini's version, also up on his website, proclaims "we are the food," or "we are the kitchen."
Is this the name of the new restaurant? Reading waaay too much into things, it's interesting to note that legendary French chef Paul Bocuse once asserted that the nouvelle cuisine was first used in conjunction with the Concorde's first flight, in 1969, after the protest dust settled.
In any case, for the 2012 update, the protestors have beaten monkey wrenches into pasta spoons. They wield cleavers and shun carrots. The homage is a little funny because Carmellini was just this week complaining on Twitter about copycat design. By co-opting the 1968 protest image, he's effectively following the lead of mentor Daniel Boulud, who borrowed a dash of counterculture from CBGB when he opened sausage central DGBG on the Bowery five years ago.


Is This the Name of Andrew Carmellini's New French Spot? [Local EV/NYT]
Earlier: Ooh La La: Andrew Carmellini Opening French Restaurant in Chinatown Brasserie Space
Related: Daniel Boulud Goes After Copycat DBGB