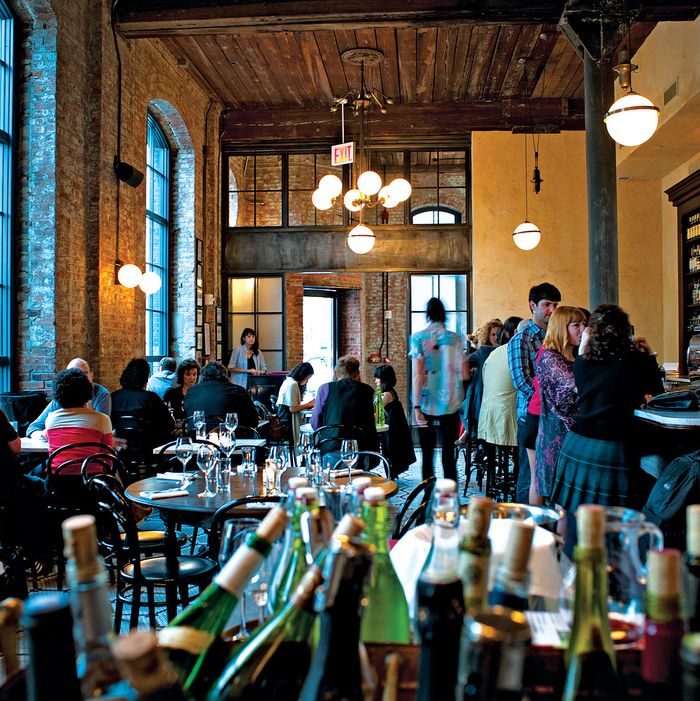 Reynards
Photo: Danny Kim
"I don't think we're in Williamsburg anymore, Toto," said one of my slightly bedazzled guests, as we peered around the grand dining hall at Reynards, which opened two months ago off the lobby of the new Wythe Hotel, in North Williamsburg. Outside the towering, recently restored factory building, limousines idled along the curb, like company cars in front of a Wall Street bank. Many of the nattily attired diners in the beamy space looked less like bewhiskered regulars from the neighborhood than like tourists who'd come from around the globe (or across the river) to witness what someone at the table breathlessly described as "the Williamsburg scene." They dined, the way tourists do, on familiar brasserie classics (duck rillettes, frisée salad, a berry Pavlova), and when they finished eating, they disappeared upstairs to their tastefully decorated $300 suites or got back in their limos and went home.

The glitzy, glamorously transient hotel scene restaurant has been a staple in Manhattan for centuries, of course, and given the heat (and hype) that's ­enveloped all things Brooklyn, it was only a matter of time before one of them showed up here. Reynards is the brainchild of the practiced Williamsburg tastemaker Andrew Tarlow, whose seminal neighborhood joints Diner and Marlow & Sons helped define the borough's scruffy-chic, farm-to-table aesthetic when they opened around a decade ago. To run the kitchen at his latest restaurant, Tarlow has enlisted Diner and Marlow & Sons chef Sean Rembold, who's dotted the spare, ever-changing seasonal menu with familiar bistro dishes like deviled eggs and grilled trout. There's also a ­burger, of course, made with grass-fed beef, broken down and ground, in righteous, neo-artisanal Brooklyn style, by the kitchen's in-house butcher.
My tasters and I began one visit with a grainy, properly rustic tub of duck rillettes, which was covered, on its top, with a pleasing scrim of melted foie gras and duck fat. This was followed by a cooling bowl of cucumber soup, slabs of crunchy toast slathered with assorted shellfish, and an attractive but curiously tasteless knob of steak tartare served with a single grilled oyster on top and a tangle of fries. The giant, Gulliver-size roasted trout was obscured by too much duck fat, so try the other seafood dishes like roast pike, arctic char, or the lobster, which is touched with an old-fashioned vanilla sauce and scattered with fresh garden peas. At $14, the excellent house burger (with onions, and a topping of melted Gruyère for two dollars more) costs slightly less than equivalent haute burgers across the river, and if you're in the mood for a down-home country dish, I suggest the guinea hen, which is served over a buttery pile of grits.
There's nothing groundbreaking about this kind of cooking, of course, and as dinner proceeds, the sense of raucous, neighborhood terroir that Brooklyn restaurants are so famous for slowly dissipates in the great, echoing dining hall. But you can get a hearty country omelet for breakfast or brunch, and if you're cooling your heels before a show at the Brooklyn Bowl, the bar upstairs serves Sazeracs and other mixologist classics, and has a classic tourist's view back over the rooftops of Williamsburg to Manhattan. The retro-comfort desserts (elegant slivers of pecan pie; strawberry shortcake made with a slightly stale country biscuit; a good, boozy whiskey bread pudding, with a scoop of caramel ice cream on top) aren't the most original dishes in this restaurant-mad borough either, but they'll do just fine if you're new to the neighborhood or just passing through.
The New York farm-to-table pioneer ­Peter Hoffman was serving locavore delicacies like roast guinea hen and rhubarb pie at his seminal Soho restaurant, Savoy, back when most of today's fashionable Brooklyn cooks were still gobbling Twinkies in grade school. Last year, however, Hoffman closed Savoy and decided to recast the prim little bandbox space on Prince Street in the image of his more populist East Village restaurant, Back Forty. His new venture, Back Forty West, has a longer bar to accommodate members of the mixologist set, a new communal dining table upstairs designed to facilitate the consumption of a whole range of folksy, casually trendy southern dishes (slow-smoked pork ribs, smoked chicken leg and thigh, fried "pork face" nuggets served with tomatillo jam), and a clean, carefully rusticated décor featuring slats of distressed antique millwork pulled from an old Shaker barn.
Judging by the swarms of eager customers who were jammed into the little space on the evenings I visited, these innovations seem to have worked almost too well. The downstairs bar area fills up early, so ask to sit upstairs, where you can enjoy a cocktail and a helping of the tender, well-smoked house chicken leg in relative peace. Many of the retro-comfort dishes I sampled (chalk-dry ribs, slightly burned pork nuggets, a desiccated grass-fed burger garnished with grimly sweet housemade ketchup) had a retread, assembly-line quality to them. But if you focus on the enduring barnyard classics—summer-pea soup dabbed with crème fraîche, pink slices of grilled lamb garnished with a spoonful of chunky Romesco, wedges of tart, crumbly crusted lemon pie—it's possible, late on a peaceful summer evening, to conjure up the glories of the old Savoy.

Reynards
80 Wythe Ave., at N. 11th St. Williamsburg; 718-460-8004
Hours: Breakfast Monday to Friday 7 to 11 a.m., Saturday and Sunday 7 to 10 a.m. Brunch Saturday and Sunday 10 a.m. to 4 p.m. Lunch Monday to Friday noon to 4 p.m. Dinner Monday to Sunday 5:30 p.m. to midnight.
Prices: Appetizers, $8 to $12; entrées, $18 to $26.
Ideal Meal: Duck rillettes, seafood toast, burger, whiskey bread pudding, pecan pie.
Note: Boozehounds take note: Two by-the-glass wines are also available by the pitcher.
Scratchpad: Half a star for the classic bistro cooking and another half for the vibrant, if studied, Williamsburg scene.

Back Forty West
70 Prince St., at Crosby St.; 212-219-8570
Hours: Dinner Monday through Wednesday 5:30 to 10:30 p.m., Thursday to 11 p.m., Friday and Saturday to 11:30 p.m. Lunch Monday through Friday 11:30 a.m. to 5:30 p.m. Breakfast Monday through Friday 8 a.m. to 11:30 a.m. Brunch Saturday 11 a.m. to 5:30 p.m., Sunday to 6 p.m.
Prices: Appetizers, $4 to $18; entrées, $15 to $32.
Ideal Meal: Pea soup or tagliatelle with peas, grilled lamb, lemon pie.
Note:Try the stout pulled-pork sandwich with housemade barbecue sauce for lunch.
Scratchpad: Two stars for the best of the classic barnyard dishes, minus a star for the uneven quality and service.
This story appeared in the July 21, 2012 issue of New York Magazine.