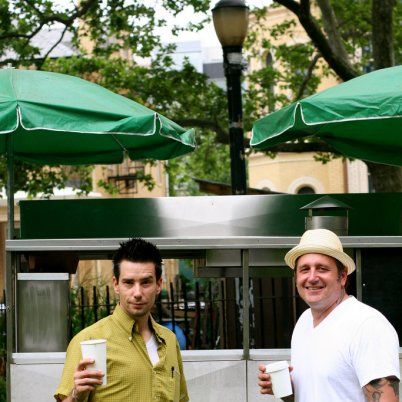 Urban Rustic's Daniel Cipriani and Luis Illades with the cart.
Photo: Courtesy Urban Rustic
With the years-awaited return of McCarren Park Pool slated for June 28, nearby restaurants are sure to see a boost. One shop, the local-foods hub Urban Rustic, is determined to take advantage, with a food cart they're setting up at North 12th Street between Union and Driggs in Williamsburg that will be open Saturday mornings for the Greenmarket and noon to 7 or 8 p.m. Thursdays through Sundays. On the morning menu are iced coffee and several kinds of breakfast sandwiches, plus a seasonal omelette. The rest of the time they'll serve hamburgers/veggie burgers and hot dogs ranging from plain to bratwurst to the "L.A. Street" dog, with bacon, pico de gallo, and American cheese. The grub-slinging starts Saturday. See full menus below.

GREENMARKET MENU
Breakfast sandwich
2 Cage free organic eggs from feather ridge farm (Elizaville, ny)
On house baked roll $4
With white cheddar $5
With slab cut bacon $6
With turkey sausage from di paolo's stand (right behind you) $7
Greenmarket omelette special
3 Cage free organic eggs from feather ridge farm (Elizaville, ny)
With goat cheese
With _________xxx_______ from ____xxx___(changes weekly)___________
And
_____________xxxx_________ from __________xxx gardens________________
Served with toast points $10
Coffee fair trade organic bean $3
Iced coffee $3
Bottle of water $2
REGULAR MENU
Hamburger/veggieburger $8
Iceberg slaw, Brooklyn brine pickle
ketchup, Dijon, homemade delta sauce
Add American cheese $1
Add slab cut bacon $3
Bratwurst $6
Served with iceberg slaw and homemade delta sauce
Hot dog $3
beef hot dog served with ketchup or Dijon mustard and sauerkraut
L.A. Street Dog $6
beef hot dog wrapped in thick slab cut bacon with pico de gallo and American cheese
l.a. street bratwurst $8
bratwurst wrapped in thick slab cut bacon with pico de gallo and American cheese
BEVERAGES:
Blue sky organic sodas (cola or ginger ale) $2
Lemonade/Iced coffee $3
Bottle of water $2