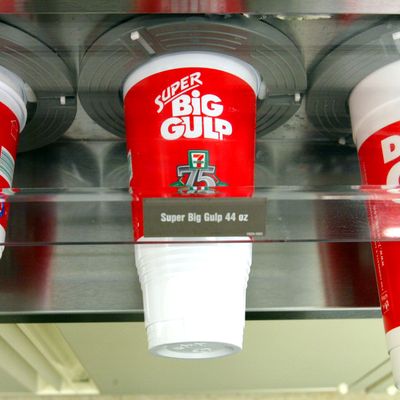 Still won't be banned.
Photo: Joe Raedle/Getty Images
As expected, yesterday the city health board gave a preliminary nod to Mayor Bloomberg's proposed soda ban and voted to hold a public hearing on the plan next month (that should be a fun one). According to The Wall Street Journal, many board members think the ban doesn't go far enough.
They also wondered if "the department should broaden the ban to include drinks not covered in the proposal, such as milkshakes." Starbucks drinks might not be safe, either. Or even non-drink items. Asked one member, "We're really looking at restricting portion size, so the argument could be … what about the size of a hamburger or the jumbo fries, and all that kind of stuff?" And yet another board member brought up the idea of banning jumbo popcorns at movie theaters: "The popcorn isn't a whole lot better from a nutritional point of view than the soda is, and may have even more calories."
One thing they apparently only glanced over at the hearing: The fact that the soda ban wouldn't eliminate Big Gulps. That's an oversight there, guys.
City Drinks Plan Questioned [WSJ]
Earlier: 7-Eleven Pretty Sure the Soda Ban Won't Affect Big Gulps
Related: Will Bloomberg Have Mercy on Frappuccino Lovers?