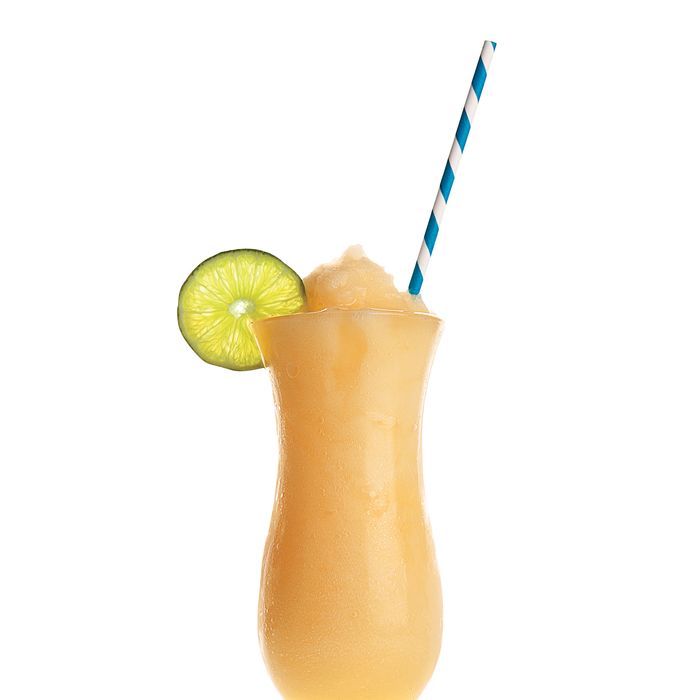 Hora de Festa at Nights and Weekends.
Photo: Danny Kim
Ask someone to ponder the defining characteristics of a frozen cocktail, and his thoughts are likely to turn to Day-Glo colors, frosty goblets, and momentary bouts of brain freeze. And what is wrong with that, you say? Well, nothing, really. It's liberating, every now and then, to slurp something blue from a cup the size of a fishbowl. Which is not to suggest that there isn't room for improvement. That, at least, is the thinking behind a growing number of top chefs and serious bartenders whose goal it is to do for the slushie what Harry Craddock did for the dry martini. Take, for instance, T. J. Lynch at the Nolita bar Mother's Ruin. "Just because it's frozen doesn't mean it can't be made with good ingredients, well thought-out, and balanced right," he says. Lynch estimates that since installing his Frosty Factory machine last fall, he's cycled through somewhere around three dozen recipes, rarely repeating the same drink twice. This summer, he plans to post a slushie calendar on the bar's Facebook page. Which seems like as good an excuse as any to plan a crawl at the following spots, every one of them pro-slush.
Nights and Weekends
1 Bedford Ave., nr. Lorimer St., Greenpoint; 718-383-5349
At this Latin-Caribbean-themed joint, the frozen margarita is available nightly, in addition to a frozen drink of the day, like the cachaça-and-mango Hora de Festa, a pisco sour that substitutes coconut cream for egg white, and a bracingly bitter and herbal Fernet and Coke.
Momofuku Noodle Bar
171 First Ave., nr. 11th St.; 212-777-7773
Out of the Cecilware Ugolini dual-chamber frozen-drink machine come some inspired soju slushies like basil lemonade, apple cider, and a yuzu Palmer. They're served in short glasses with sawed-off bubble-tea straws.
Pok Pok Ny
127 Columbia St., nr. Kane St., Columbia Street Waterfront District 718-923-9322
Andy Ricker's Thai restaurant's old-school, low-tech formula relies on a rotating barrel filled with a slurry of ice and salt that's hooked up to a windshield-wiper motor. Stick a bottle of Singha in for five minutes, fish it out, tap it hard to further crystallize the beer molecules, and presto: instant brain freeze.
Parm
248 Mulberry St., nr. Prince St. 212-993-7189
Avid students of Italian-American culture and fans of the frozen margs
at Sweet & Vicious, partners Mario Carbone, Rich Torrisi, and Jeff Zalaznick came up with the Frozen Scorpino, a vodka-and-Asti Spumante-spiked, Cointreau-and-triple-sec-enhanced lemon ice that references the Northern Italian sgroppino and the Lemon
Ice King of Corona in equal measure.
Mother's Ruin
18 Spring St., nr. Elizabeth St.; no phone
Check the chalkboard for the slushie of the day, which changes at least
twice a week and has lately vacillated between a Pimm's Cup and the passion-fruit-and-tequila Marky Mark, named for the brunch bartender.
El Quinto Pino
401 W. 24th St., nr. Ninth Ave.; 212-206-6900
A pioneer of the sophisticated slushie, this Chelsea tapas bar offers two nightly, both as lovely to behold as they are satisfying to sip: the Pomada, a frozen gin lemonade via Menorca, and an horchata milk punch with a brandy de Jerez float—a dessert drink for grown-ups.