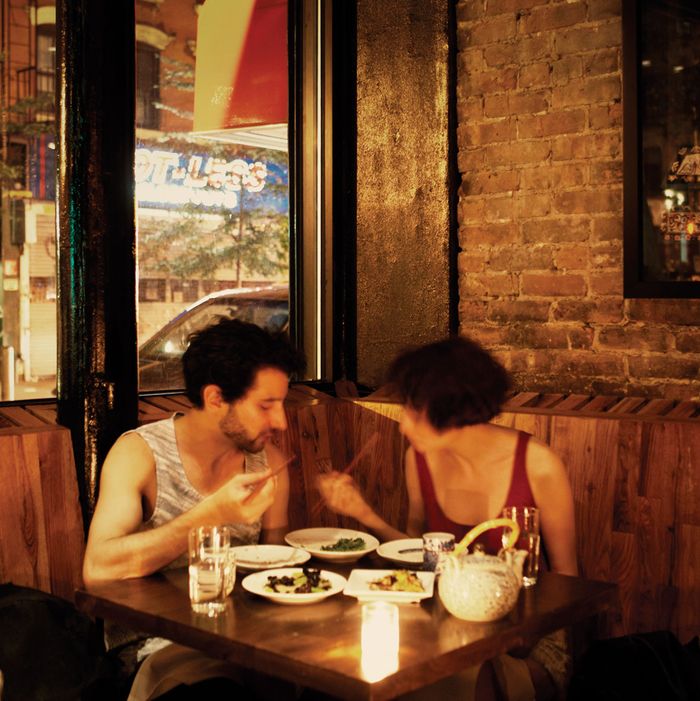 Yunnan Kitchen.
Photo: Danny Kim/New York Magazine
In this week's New York, the Underground Gourmet gave newcomer Yunnan Kitchen four stars.* What did New York's crop of professional eaters have to say about the city's eats this week? Straight ahead in our weekly roundup of professional dining.
Not two weeks after Adam Platt called it "Ruby Foo's for rich people," Ryan Sutton is also unimpressed by luxe London Chinese chain Hakkasan. Delicate Dover sole is stir-fried in an overbearing sauce for $52, wok-fried wagyu is $78, and standby Pekin duck goes for $345. Final tally — half a star.
At Catch in the meatpacking district, diners embark through an unmarked door and down a black hallway to find their fare; later in the evening, a velvet rope appears outside. Even so, the Times' Ligaya Mishan says says the department-store-sized venue "primed for franchising" actually serves up good eats, with season three Top Chef winner Hung Huynh behind the menu.
Heartbreak replacement on Second Avenue, Boukiés, isn't a Greek bistro. Robert Sietsema notes its very un-intimate layout and its two entrées (a grilled fish or a rack of lamb). This place is about the taverna-style small plates, and Sietsema green-lights the pita sandwiches bulging with dream-worthy lamb or the varieties of Pitarakia phyllo pies.
Tejal Rao calls the ramen at Tribeca veteran Zutto "so concentrated with marrow and bone that it nourishes and obliterates you all at once." The slightly pricey noodle joint does expert tonkotsu and parma-karma — a cheesy name for the addition of Parmigiano cheese, garlic and rosemary to pork broth. She suggests going at lunch, when the chill, tattooed staff is least frazzled.
Though it has its high points — Duck & Foie, grilled whole scallop, Szechuan spiced salmon — Pete Wells finds Neta good but not great. The Masa alums who run the high-end sushi spot took some of their tricks with them, but the ambience is lacking, and the menu is too conservative while Neta chefs feel out their customers. Wells awards two stars.
Dragonfly is a beacon in a "land of 1,000 mostly lousy Asian restaurants," says Steve Cuozzo. The Upper East Side non-takeout restaurant bravely cooks up daring Southeast Asian dishes for a mostly white-chicken crowd, even if it does tend to cater to its patrons' unadventurous palates. Cuozzo gives two stars.
*This post has been corrected as it at first erroneously stated that Yunnan Kitchen is in Tribeca; it's actually on the Lower East Side.