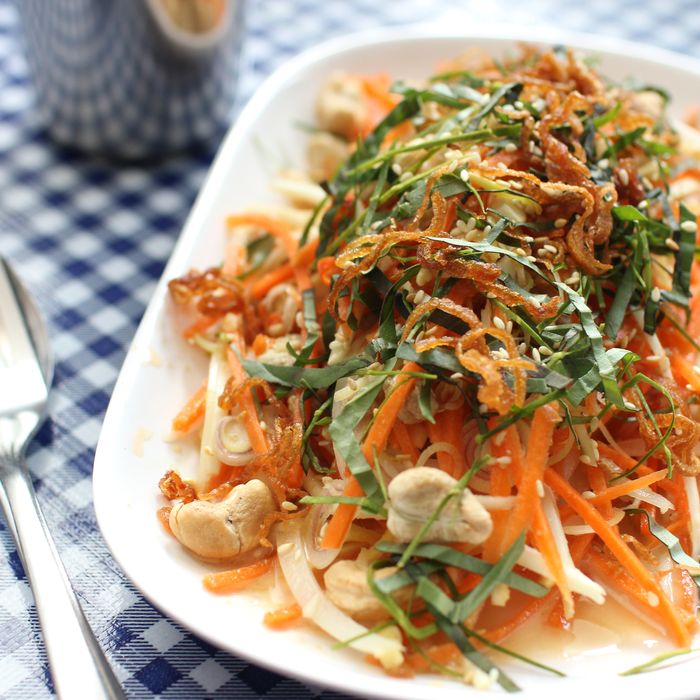 Duking it out over Pok Pok Ny.
Photo: Melissa Hom
While Adam Platt was busy judging a picnic challenge for our Summer Guide this week, his cohorts waded through another round of taste-testing the city's restaurants. See their verdicts, straight ahead.
NoMad adds more feathers to its cap (in the form of three stars from the Times) as Pete Wells takes on the restaurant's fare. He calls the suckling pig an "enriched plutonium of pork" — but it's, yes, that roast chicken that's "the uncontested prima donna," with skin that's a "lacquered brown the color of challah," capable of putting a "no-reservations tavern on the map."
The unexpected garden and movie screen are the least surprising elements of Crown Heights' whimsical pizzeria Pete Zaaz. It's the pies, namely the baked potato pie with cheddar, bacon, and crème fraîche all on top of what Robert Sietsema calls one of the best crusts he's seen in ages, that really surprise. He suggests the Mexican chorizo with another surprise topping — kiwi.
At Landbrot, the German bakery in the West Village, even the herring salad is decidedly un-scary. Tejal Rao likes the Cambozola sandwich with nutty untoasted bread, raw apple and moldy Cambozola cheese. In the morning, go for the dense, German breads, the yeast-sweetened pretzels, coffee — or the Hoss beer.
The New Yorker calls dining at Pok Pok Ny "a sport." Besides, of course, those fish-sauced wings, go for the pork ribs and mustard greens stewed in a smoky tamarind broth, or the pork belly and neck in a thick Burmese curry. Or, just move down the menu. On another note, Bloomberg's ever-contrary Ryan Sutton gives the same Pok Pok only one star, for lousy service. He says diners wait for a table in a "holding pen," and "Manhattanites drop $35 on a cab ride for $10 eggplant." You can't please everyone.
Reynards inside Williamsburg's Wythe Hotel is a lot like a hipster, the Daily News says. It tries so hard for realness, it ends up feeling contrived. It's all about the scene (although rooftop bar the Ides is a highlight), and the food is second-rate — NYDN's Michael Kaminer calls the chewy pea-green grits "verdant oatmeal" and the roasted-vegetable salad "swampy funk." Apparently worthwhile are the whisky pecan pie, Terroir espresso, and that rooftop.