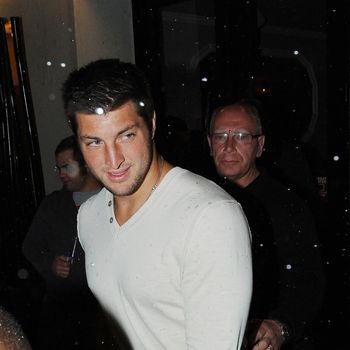 Tebow: so popular he needed security at Tao.
Photo: Christopher Sadowski/Splash News
This week, Kimye were/was noticeably absent from the New York dining scene. They were too busy having a ball in Cannes. Sigh. Anyway, among those few luminaries who remained Stateside, New York sports stars were extra-conspicuous. Tao had Tim Tebow warding off ravenous fans, and Henrik Lundqvist and a pack of Rangers buddies hopscotched through meatpacking eateries and bars after their playoff loss. All this and more in our weekly roundup of celebrity dining.
Tao: So many people tried to get photos with Tim Tebow at dinner last weekend, he needed a blocker in the form of a Tao security guard at his table. [Page Six/NYP]
Miami Mike's: Former Giants star OJ Anderson bought a round at the sports bar in East Hanover for 25 guys after Game 1 of the Kings-Devils series. Anderson, a Kings fan, celebrated the win by doling out booze, even to Devils fans. Before he left, he tipped a hefty $50 on his $125 tab. [TMZ]
Primola: Josh Lucas chatted at the Upper East Side restaurant's bar with a mystery woman. [Page Six/NYP]
Sway: Only a couple of weeks after LiLo jammed there, Shaun White danced with "hottest woman in the world" Bar Refaeli from 1:30 to 3 a.m. Monday. They hugged, kissed, and he let her take his car home. Unforunately his own posse, after consuming bottles of Jack, vodka, and wine in VIP, didn't leave a tip. [Page Six/NYP]
Catch: Henrik Lundqvist and his Rangers buddies had dinner Saturday after their elimination by the Devils on Friday. The night before they partied all night at 1 Oak. Then after toasts at dinner Saturday, they headed to SL to keep on partying. [Page Six/NYP]
Hotel Americano: Jon Bon Jovi and Harry Belafonte chatted about Bon Jovi's "community restaurant," JBJ Soul Kitchen in Red Bank, New Jersey, at which donations or volunteer work pay for meals. [Page Six/NYP]