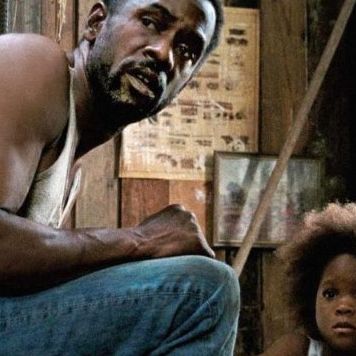 Mr. Henry, left, in
Beasts of the Southern Wild.
Photo: Fox Searchlight
Showbiz breaks come in all forms. For Dwight Henry, the owner of the Buttermilk Drop Bakery & Café in New Orleans's Seventh Ward and star of the new film Beasts of the Southern Wild (opening today in New York and Los Angeles), the break wasn't just unexpected; it totally upended his life.
For most actors, a role in a film like this would be a career-making move: The movie, the first feature from 29-year-old director Benh Zeitlin, has gone from being known as a  weird-sounding, magical-realist, epic fable with zero star power at the Sundance Film Festival to perhaps the most-praised American movie of the year. At Sundance, it won the Grand Jury Prize and a prize for its cinematographer, Ben Richardson. At the Cannes Film Festival, it picked up the international critics' award and the prestigious Caméra d'Or for best first film. And A.O. Scott of the Times likened Zeitlin to a blues-and-zydeco-influenced Terrence Mallick, and called the movie, "a blast of sheer, improbable joy, a boisterous, thrilling action movie."
But Mr. Henry, as everyone calls him, wasn't even trying to be an actor. His bakery just happened to be across the street from the offices of Court 13, the production company behind Beasts. For the film's wildly imaginative 6-year-old female protagonist, Hushpuppy, the team cast newcomer Quevenzhané Wallis, whose previous credits included nothing more than kindergarten and first grade. They auditioned 3,500 local kids before deciding on Wallis; they also knew they'd need a professional adult actor to play opposite her, so at least one person on set would know how to emote and memorize dialogue. But none of the professionals seemed tough enough to play the role of Hushpuppy's father, Wink. So they kept coming back to the no-nonsense man with the big smile who had been selling them buttermilk drop doughnuts and coffee.
"I always told them no, I didn't have time. Because I really didn't have time," says Mr. Henry. "I was so busy doing what I was doing as far as business." Then one day he did have time, so he auditioned, which meant simply talking about his life. This included the story of him staying behind for two weeks after Hurricane Katrina, at first protecting his business from looters, and then fleeing to the higher ground of a strip mall parking lot. "They had hundreds of people there — old people, young people — just sitting there. I actually had to take charge. Nobody didn't have nothing to eat, nobody had no water," he says. "So we broke the glass on the Family Dollar. Everybody went in, got clothes, got water. It was something I didn't want to do but we had to."
"When he'd go off on his life, it was really captivating and amazing and he'd tell it with such charisma and such passion," says Beasts producer Michael Gottwald. "He maintained that rawness and was really able to convey it in his face and bring his own personal emotions to it. It really blew us away."
The film itself isn't necessarily about Katrina, but it nevertheless touches on the very real struggles against land loss and brutal storms faced by communities on the absolute southern edge of America. Zeitlin incorporated much of Mr. Henry's story into Wink's, including his experiences as a father of a girl, Cameron, who is Wallis's age. (He says he's got four sons, too: Djuan, 2, Dwayne, 5, Darius, 11, and Dwight, 16. "And I don't want no more.")
Mr. Henry, for one, isn't going to let this opportunity and exposure go to waste. At the Sundance premiere, he handed out 1,200 buttermilk drops. "I gotta network. I'm a businessman," he said at the time, before handing me a business card. He wanted to do the same at Cannes, but didn't think he'd manage to get 1,200 doughnuts through customs. Instead, he tried sampling the local baked goods. He liked a crème brûlée tart with blueberries, but added, "they've got a lot of unique pastries, but they're nothing like our pastries."
At Cannes this May, he was trying to enjoy the attention and parties on the beach without worrying about what might be going on back at his business while he was away. "Somehow things don't never go right," he said then, "but I'm not even calling and checking on it because if the place burn down, ain't nothing I can do about it anyway. I'm in France and anything that's broken can be fixed. It can reopen, start over again. I'll ride the wave."
‪He wants to keep acting, as long as the projects are in New Orleans and Louisiana, so he doesn't have to stay away from his kids and business too long — a relatively easy proposition since so many movies shoot there due to tax breaks. To that end, he's enlisted a family friend as his manager, Rocky Arceneaux of the St. Louis–based The Alliance Management Group, which represents sports players, Nelly, and Cedric the Entertainer. This week, Mr. Henry started filming his first post-Beasts project, Twelve Years A Slave, an adaptation of Solomon Northup's 1853 memoir about being kidnapped into slavery in his thirties after being born a free man. The movie is being directed by Steve McQueen — the director of Shame and Hunger — and stars Michael Fassbender, Paul Giamatti, and Brad Pitt. ‬
That's not the only thing Mr. Henry has in the works. In addition to Buttermilk Drop, Mr. Henry is collaborating with Wendell Pierce of The Wire and Treme, on a chain of New Orleans markets called Sterling Farms. (Each location will have a Buttermilk Drop.) The first will open in Gretna, Louisiana, a New Orleans suburb, in October. He's also planning a restaurant in downtown New Orleans, Wink's, named after his Beasts character. "The movie went through the roof at Sundance and it went through the sky over here at Cannes," he told me at Cannes. "So expectations and opportunities, I think, are gonna arise for me and I'm gonna have to raise the bar." He told me his plans now include "a couple of more films, bigger films, and more restaurants — I'm gonna raise the bar on my life." Then he tried out the little French he knows: "Oui Oui. Laissez les bons temps rouler. Let the good times roll."
Additional reporting by Katie Van Syckle.
Related: How Beasts of the Southern Wild (and Its 8-Year-Old Star) Became a Film-Fest Phenomenon [Vulture]