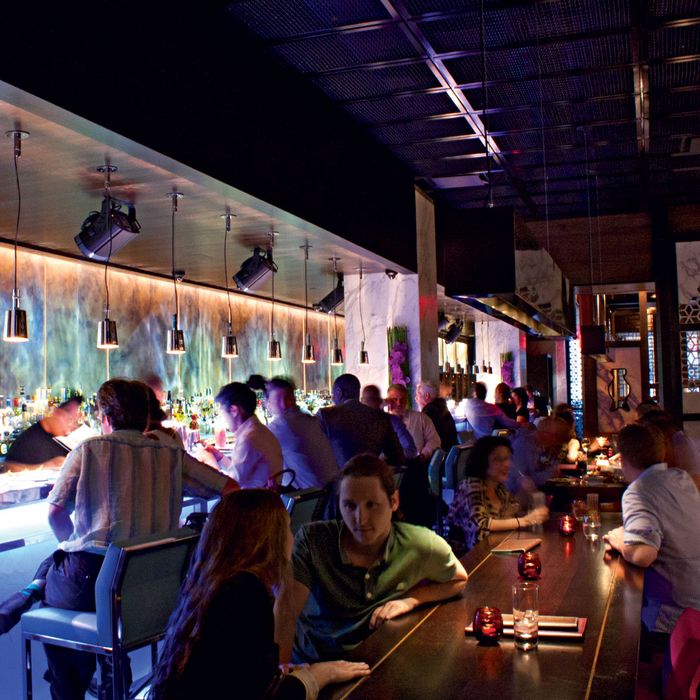 Nobody loves Hakkasan.
Photo: Michelle Feffer/New York Magazine
Adam Platt took a break this week, but a few critics echoed his reviews of late. What did New York's professional eaters think of the city's restaurants this week? What they ate and what they thought, straight ahead.
At NoMad, Ryan Sutton says chef Daniel Humm sends out "four of his worst dishes" on the seven-course, $125 tasting menu. Sutton says skip it and go for that $78 "rock your socks" chicken, so loved by Steve Cuozzo. Sutton gives the spot two of four stars.
Here's a surprise: a review in the Daily News. Stan Sagner (we hadn't heard of him, either) gives Blue Ribbon Sushi Izakaya three stars out of five. The menu can be overwhelming and the food is hit-or-miss, but order the oxtail-and-marrow fried rice. It's so good that Sagner "almost wept when it was gone." So, chefs, now you know how to spot the newest critic in town: He's the guy welling up in the dining room.
Tejal Rao notes the sometimes outrageous wait at Andy Ricker's Pok Pok Ny in Brooklyn, but the music, atmosphere, and unfussy cocktails spiked with Pok Pok's vinegars pass the time easily. Once you sit, she suggests ordering yam makheua (grilled eggplant) or muu kham waan (grilled pork neck with chile dressing) from one of the friendly waiters.
The Chinese food on Eldridge Street is so good, Robert Sietsema can't pick just one restaurant. His review tour touches Young City Fish Balls, Yi Zhang Fishballs, Food World, and Panda Dumpling House.
Tables for Two says the food and fans at Alison Eighteen in Flatiron (brainchild of Alison Price Becker) seem to have carried over from Price Becker's last venture, Alison on Dominick.
Jay Cheshes gives three stars each to both Yunnan Kitchen and Lotus Blue. (It seems the two restaurants will forever be linked.) Cheshes says "both serve food so distinctive — fruity, floral, occasionally spicy — that the uninitiated might not identify it as Chinese at all."
After Ryan Sutton gave it a half star for not living up to its price and Adam Platt called it "Ruby Foos for rich people," the Post's Steve Cuozzo and Pete Wells are the latest to hate on London Chinese chain Hakkasan. From the first step inside, Cuozzo is displeased: "An incense ambush at the entrance evokes Saturday night on St. Marks." Both lament the $48 Chilean sea bass right off the bat. Wells goes further: portions are too small, and in many cases "about as interesting as a box of paper clips." With a half-star rating, Cuozzo says he's headed to Mott Street. Wells awards one and instead suggests a riot.