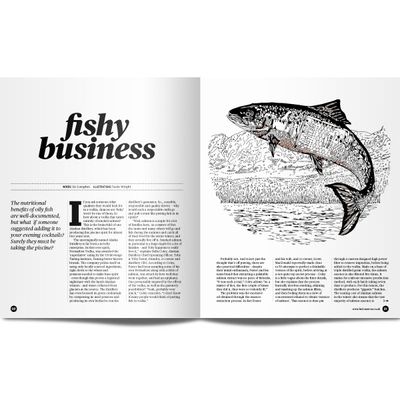 Fishy business indeed.
Photo: Courtesy Hot Rum Cow
That Good Humor ice cream shortage isn't the only first-world problem causing stress today. Turns out that we're running out of rye as well. "We're completely out for the next two years," says Wild Turkey's master distiller, noting the next big batch is still barrel-aging. Demand exceeded supply in 2010, and things haven't been the same since; somehow this is Don Draper's fault. Next time you order a Manhattan, it might just be vermouth and bitters, with extra cherries.
Meanwhile, brand new wine and spirits magazine Hot Rum Cow — coming straight outta Edinburgh in print, but available instantly on iTunes — takes an unflinching look (also, taste) of smoked salmon vodka, made with actual fishies up north by the Alaska Distillery since 2010, when the rye shortage began.
It wasn't easy to develop the recipe, it turns out, and an early experiment made the team "violently ill." (Just typing the words "smoked salmon vodka" makes our stomachs turn a bit.) Also, two years is roughly the lifespan of several dozen marshmallow, cupcake, and bacon novelty vodkas combined. So what gives? Turns out the salmon chums at Alaska Distillery are dead serious about their craft, and mixing proteins and libations in the same bottle goes back a few hundred years, anyhow.
Distilleries Still Scrambling To Boost Production In Wake Of Rye Shortage [Shanken News Daily]
Fishy Business [Hot Rum Cow]