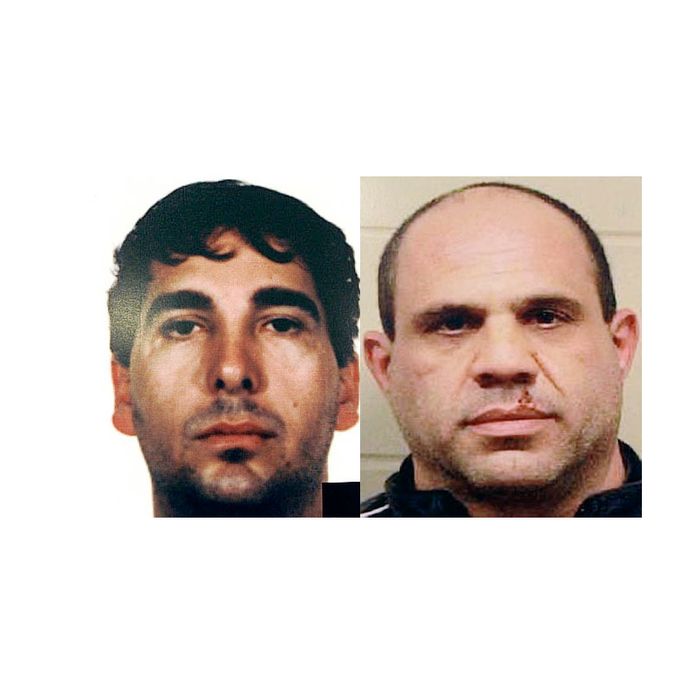 Francis Guerra and Anthony Russo.
Photo: Government photos
When two of New York's most infamous crime families need a sit-down, it's important to find neutral ground. That's presumably why members of the Colombo and Bonnano clans, when faced with a potentially explosive dispute over a stolen pizza recipe, retreated to the least likely venue imaginable for a sit-down over old-school Italian food: a Panera Bread café.

According to the court testimony of Colombo crime family capo Anthony Russo, Colombo associate Francis Guerra accused Eugene Lombardo, affiliated with the rival Bonnano clan, of stealing the secret pizza-sauce recipe from square-pie specialist L&B; Spumoni Gardens in Brooklyn.
L&B; is owned by Guerra's in-laws and is famous for serving its sauce on top of the pie. Lombardo owns a Staten Island pizzeria, the Square, and we can attest that the Square's signature slice is a ringer for L&B;'s.
According to a report by the New York Daily News, when Guerra and Colombo "goon" Frank (Frankie Notch) Iannaci found out how similar the pizzas were (perhaps they read Yelp! or noticed the Square's signage boasting of "L&B; Style Pizza"), they confronted Lombardo. A short time later, Lombardo was summoned by Bonnano soldier Anthony Calabrese to a nearby Panera Bread café and told to pay $75,000.
During the meeting, while everyone else was fuming, Calabrese evidently kept his cool, asking Russo, "'Are we gonna go after every pizzeria that puts sauce on their slice?" Whatever happened, the crisis was averted: Lombardo wound up paying only $4,000, and presumably everyone enjoyed their tasty, mafia-war-squelching Panera sandwiches.
Mob sauce summit! Colombos and Bonannos had sitdown over suspected family recipe theft from L&B; Spumoni Gardens [NYDN]