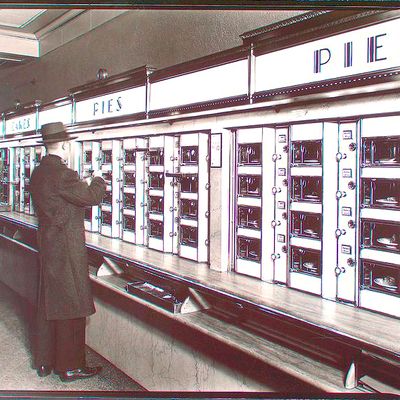 An Eighth Avenue Automat in 1936.
Photo: NYPL, The Miriam and Ira D. Wallach Division of Art, Prints and Photographs
At midday in twenties-era Manhattan, one might have taken a pocketful of nickels to Horn & Hardart's Automat on 57th and Sixth and emerged a few minutes later with some of the city's most reputable coffee and comfort foods. The last Automat closed in 1991, and the city's lunch options have certainly changed over the years, but visitors to the New York Public Library will be able to relive that historic experience starting this Friday, when the exhibit "Lunch Hour NYC" will open to the public.
Organizers of the exhibit (of which Grub's parent, New York Magazine, is a media sponsor) hope the walkthrough showcases the role of lunch in New York's history and traces its changing role throughout the last century. Interestingly, one of the first things you'll find in the collection of books, photos, recipe cards, and other vintage artifacts (including, of course, an authentic, coin-operated Automat machine from 1912) is an eighteenth-century copy of Samuel Johnson's dictionary, which describes lunch as "as much food as one's hand can hold."

Co-curator Laura Shapiro, who is a culinary historian, said the midday meal acquired its modern personality right here: "Of all the three meals, it's lunch that is a New Yorker at heart," she says. We're not sure about that, but the meal has had its share of significant moments over the years. On the exhibition's pastel-painted walls you'll find photos depicting some of the city's historic food moments, such as the overturn of policies that prohibited female diners, Katz's Deli's first slice of pastrami, or the origin of the now-omnipresent stainless-steel food cart.
"Lunch Hour NYC" will be on display until mid-February at the Stephen A. Schwarzman Building on Fifth Avenue & 42nd Street. Admission is free. Check out more details here.