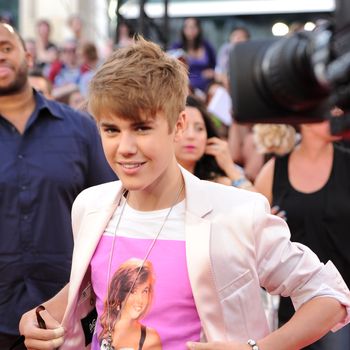 Biebs balled out as usual.
Photo: George Pimentel/2011 George Pimentel
This week, celeb sightings abounded at the city's clubs and restaurants. Justin Bieber had a mega snackfest for his album release party at Sons of Essex, and Leo stepped out for more theater — this time wearing a mask (and refusing to take it off). But not all the dining was merry: Lamar Odom got stood up at STK Midtown, and Meek Mill was turned away at Tenjune. All this and more in our weekly roundup of celebrity dining.
'21' Club: Joan Rivers hosted her niece's rehearsal dinner at the midtown restaurant, where a life-size cutout of Mayor Bloomberg was in attendance. After the wedding, the invitees partied at the Pierre Hotel. [NYDN]

Catch: Dance-floor crowds had to make way for six-foot-ten Lamar Odom when he got down at the club without Khloé last weekend. [NYDN]

Double Seven: It couldn't have been the booze — Akon stuck to orange juice all night — but when he performed a song off his upcoming mixtape Konkrete Jungle at the Avenue A Soundcheck party, he had to stop midway because he forgot the words. Luckily, the model-studded crowd didn't seem to mind. [NYDN]

Lavo: Zoe Saldana celebrated her 34th at the midtown club with her sisters and friend. The group drank champagne until 3 a.m., and Saldana wore all white. [NYDN]

Match 65: Liza Minnelli pulled a blast from the past at the UES bistro, where (in all black, of course) she chowed down on oysters and escargot, sipped iced tea, smoked profusely, and left in a fedora. [People]

McKittrick Hotel: Leonardo DiCaprio went to another show last weekend when he attended Sleep No More at the hotel. Audience members wear masks for the interactive play and usually take them off for socializing at the hotel's Manderley Bar. But a bearded Leo kept his on all night. [Page Six/NYP]

RSVP: Curtis Granderson and Russell Martin had a well-deserved feast Monday (breakfast-for-dinner style) after their victory over the Indians. They showed up at 11 p.m. and ordered French toast with friends before leaving after midnight. [NYDN]

SL: The meatpacking club was a magnet for pro athletes Saturday, as Orlando Magic guard J.J. Redick held a birthday party where invitees like Deron Williams and C.J. Miles toasted him with Champagne. Also at the club were Michael Crabtree of the 49ers, Texans LB Brian Cushing, and Steelers receiver Mike Wallace. [NYDN]

Sons of Essex: The food at Justin Bieber's Believe album release party was a teenage boy's wet dream: pork belly sliders, chicken and waffles, mac 'n' cheese balls, pizza, burgers, steak, ribs, and truffle grilled cheese. The Biebs and 75 guests (sans Selena) pigged out and sipped on … er, mocktails, one dubbed the Boyfriend, the other All Around the World. [People]

The Standard: Chaka Khan was the latest to put on a show at the Top of the Standard. Her guests included Heather Graham, Douglas Hannant, and Francesco Clemente. [Page Six/NYP]

STK Midtown: Lamar Odom ate alone Tuesday night after his friends stood him up for more than an hour. While he waited, he feasted on a man-size dinner of rib-eye steak and a bottle of Perrier Jouet Rosé. [NYP]

Strip House: Mayor Bloomberg and Diana Taylor double-dated with JP Morgan CEO Jamie Dimon and his wife, Judith. [Page Six/NYP]

Tenjune: Rapper Meek Mill, apparently mixed up in the Chris Brown–Drake drama of late, suffered the fall-out this week. He showed up to the meatpacking club late Tuesday night and was turned away by the doormen. He then apparently angrily tweeted "u won't get these racks!" Indeed. [Page Six/NYP]