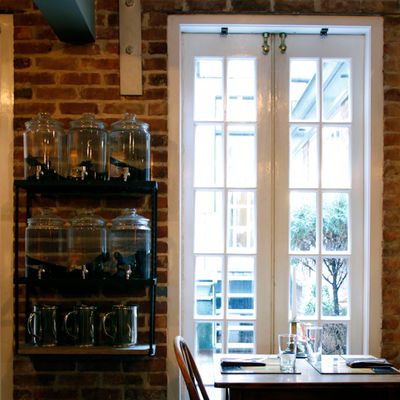 Over the weekend we caught up with Jason Hicks of the Jones Wood Foundry on the UES. The British pub's co-owner and chef Jason Hicks was busy prepping for a number of Jubilee-related events at the restaurant, including a roster of raffles to benefit the American Scottish Foundation. By serving traditional, unironic ploughman's lunch and plates like steak and kidney pie, Hicks wants the Foundry to be neighborhood place, and it is, albeit one where Eric Ripert and Daniel Boulud have been known to stop by for a nightcap.
Hicks, who also has a stake in the more cocktail-heavy Slightly Oliver on the West Side and runs the kitchen at Luc's Cafe in Connecticut, tells us he's looking to open a few more concepts in New York. "I'm currently looking in Brooklyn for a new restaurant," he says, adding, "we're also working on another concept, a new thing entirely, a takeout shop with a few locations."
Also of note at Jones Wood Foundry, especially if you've been keeping up with the latest developments in charcoal-related food news, is the new water wall. Custom-built to filter the restaurant's tap water, the six jar and spigot system uses pieces of kishu binchotan to filter the restaurant's water supply. The charcoal is made by the company Sort of Coal, who will provide a similar system to the long-delayed Aamanns once it opens. At Jones Wood Foundry, the charcoal-filtered water is the "house" tap water and is provided to guests at no charge. "It really makes a remarkable difference," says Hicks. "I was turned on to this way of doing things by my friend Behroush [Sharif, a.k.a. the Saffron King]. It's like night and day."
Related: Hot Hot Hot: Could High-End Charcoal Actually Become a Thing?